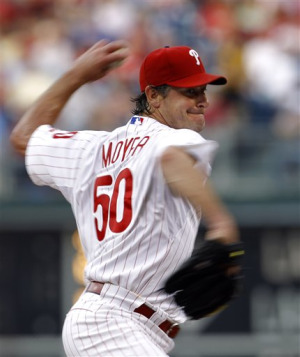 When
Phillies
starter
Jamie Moyer
gave up a solo home run to the
Indians
'
Russell Branyan
on Tuesday night, it was his 505th career home run allowed, tying Robin Roberts for the most all time.
But being at the top of the leaderboard for a negative statistic is not the sign of a bad player. In fact, historically, it's a sign of greatness.
* Strikeout leader Nolan Ryan (5,714) is also the career leader in walks issued (2,795). In fact, the top five on the walks list are in the Hall of Fame: Ryan, Steve Carlton, Phil Niekro, Early Wynn and Bob Feller.
* Other than Moyer, the rest of the top five in homers allowed are in the Hall of Fame: Roberts, Fergie Jenkins, Niekro and Don Sutton.
* Top five in losses? All in the Hall: Cy Young, Pud Galvin, Ryan, Walter Johnson and Niekro.
* Top five in earned runs? Yep, all in the Hall: Young, Niekro, Sutton, Ryan and Galvin.
* Moving to the hitting side, Reggie Jackson leads the career strikeout list.
* The seven players who have grounded into the most career double plays are Hall of Famers or will be: Cal Ripken Jr., Hank Aaron, Carl Yastrzemski,
Ivan Rodriguez
, Dave Winfield, Eddie Murray and Jim Rice.
* The top 13 in outs made are in the Hall, with the exception of Pete Rose (the all-time leader with 10,328) and Craig Biggio (No. 10), who will be a strong candidate.
So Moyer shouldn't feel bad about his new record. He's in very good company.
-- David Andriesen

For more baseball news, rumors and analysis, follow @cbssportsmlb on Twitter.