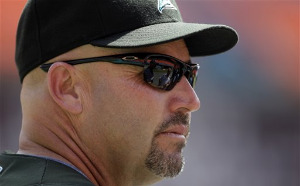 It seems as if Fredi Gonzalez always had one foot out the door as manager of the
Marlins
.
Controversy has always swirled around him being the skipper of the Marlins. Last May, Florida spoke to Bobby Valentine about taking over the manager's job, and there were reports even before then that owner Jeffrey Loria was not happy with Gonzalez as manager. When the Marlins finished 2009 out of the playoffs, questions about Gonzalez' job security popped up again even though the Fish finished 87-75, in second place.
Loria finally got his chance to pull the trigger Wednesday, also jettisoning bench coach Carlos Tosca and hitting coach Jim Presley for the 34-36 Marlins, in fourth place and 7 1/2 games out of first place. The new manager is Edwin Rodriguez, who has skippered Triple-A New Orleans for the past 1 1/2 years.
Loria issued a statement, talking about how close he was with Gonzalez, then added, "We can't let personal feelings get in the way of taking steps that we believe are necessary to improve our ballclub.
Decisions on individual personnel cannot supersede our overall goal, which is to win. We believe we can do better and be better."
Gonzalez won't be in the unemployment line for long as he is regarded as one of the better managers in the game. Not only should other teams with current vacancies be interested, he has been linked to the
Braves
almost as long as he's been on the hot seat in Florida. For quite a while now, Gonzalez has been the overwhelming favorite to replace Bobby Cox as manager, who is retiring after the year. Atlanta knows well, as Gonzalez was third-base coach for the Braves from 2003-2006.
Sports Illustrated
's Jon Heyman
confirms
Gonzalez's status as the "early heavy favorite" to replace Cox. Tim Kurkijian mentioned that the Marlins front office believed Gonzalez may have been pre-occupied with his status as the favorite to replace Cox. Whether this is spin or not, it's certainly a plum job in Atlanta.
Gonzalez seems to be a great fit for the Braves. He's proven in his three-plus years managing the Marlins that he can win despite being handcuffed with the smallest payroll in the majors -- a problem he would not have in Atlanta.
Gonzalez, who has the most wins as a Marlins manager, also has tremendous experience grooming youngsters for the big show, both in his time at the minor-league level and as skipper of the Marlins. He is regarded as a player's manager, which is extremely important in this day and age, perhaps more so than in-game management skills. In addition, having been born in Cuba, Gonzalez can speak both Spanish and English which improves the language barrier that pervades baseball these days.
Finding a manager with all these attributes is difficult to do. The Marlins may have just given the Braves the best gift possible in setting Gonzalez free. And perhaps Gonzalez can go somewhere where he is fully appreciated now.
UPDATE
: Mark Bowman of MLB.com says that Braves GM Frank Wren holds Fredi Gonzalez "in high regard," but will not have any comment on Gonzalez' status as the next manager of the Braves until Bobby Cox manages his final game.
-- Evan Brunell

For more baseball news, rumors and analysis, follow @cbssportsmlb on Twitter.