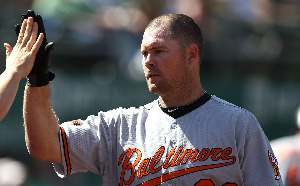 The Baltimore
Orioles
want a young shortstop and are trying to use
Ty Wigginton
to get one.
The problem,
according to
Ken Rosenthal of FOX Sports, is that no team will deal a young shortstop for Wigginton, even though the utilityman is having a strong season for the Orioles.
The
Rangers
(
seeking a right-handed bat
) and
Rockies
(
looking for a second baseman
) have been linked to Wigginton, but neither has young shortstops they would be willing to deal.
Texas has
Elvis Andrus
anchoring the position and will do so for years to come with a blend of offense and fantastic defense. The Rangers do have Jurickson Profar, but he's 16 years old and light-years away. Not only would Texas likely be unwilling to move someone with such a high ceiling, the Orioles may not be interested, as they'd be seeking someone who could join the major-league club fairly quickly.
The Rockies have toolsy shortstop Hector Gomez, but his star has plummeted and now looks like he'll never reach the promised land. At 22, he's played sparingly at Double-A. It's likely Baltimore would be the one to say no. The Rockies do have Eric Young, Jr. who can play second base but he is not a strong defender there and the Orioles are set with
Brian Roberts
at the keystone position.
It wasn't all too long ago that baseball was in a golden age for shortstops, when everyone seemed to have high-tool shortstops on the roster. Those days are long gone, however, and Baltimore will have to adjust its expectations if they hope to use Wigginton to fortify future clubs.
-- Evan Brunell

For more baseball news, rumors and analysis, follow @cbssportsmlb on Twitter.