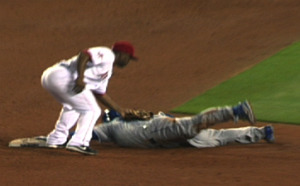 Jack Moore over at FanGraphs has a fantastic
breakdown
of the baserunning blunder that cost the
Dodgers
the game against the
Angels
on Wednesday night.
No, not the
Matt Kemp
pick-off at second by
Brian Fuentes
that seems to
have been a balk
-- although that certainly played a large role in how the game played out.
There were actually two blunders on the same play, as Moore shows, breaking down the actual game video and creating bird's eye views of the situation.
Russell Martin
and
Reed Johnson
were on first and second, respectively, with two outs in the ninth inning. The Dodgers were down by a run, and
Jamey Carroll
lifted a single that dropped just in front of oncoming left fielder Juan Rivera.
Johnson bolted for third and then eased up off the gas, expecting to coast into home plate without a throw. He was right -- except Rivera threw to second and nipped Martin (photo courtesy MLB video), who was straying off second base expecting a throw home. If that had occurred, Martin would have dashed to third. It didn't happen and the Angels squeaked out a 2-1 victory.
While Johnson's blunder was certainly what cost the Dodgers the game more, it was Martin's blunder that was more egregious. Johnson did let up on the pedal, but you can't expect ballplayers to give 100 percent on every single play. I've seen figures bandied about, one of which is that the average effort put forth on a running play is 80 percent. Going out 100 percent all the time lends oneself to more injuries, as those with "all-out" reputations can attest to.
Additionally, there was no throw to home and Johnson seemed to only speed up when the on-deck batter started urging him to do so after Rivera threw to second. Martin, however, should have been more aware of his surroundings. Yes, third base would have been nice, but there is a reason second base counts as scoring position too -- as Martin well knows.
"Now that you think about it, it's just a dumb play," Martin
told
the
Los Angeles Times
. "Whether I get on third base or stay on second, I'm still in scoring position. It is an aggressive mistake, but it's probably the last time I make it. I was still safe, though, you can let the umpire know."
Unfortunately, most events of this nature cause overreactions -- one reason why the Angels' patience after the
Kendry Morales
freak injury has been so impressive. The Dodgers will likely be one of the more conservative running teams from here on out and likely lose a couple of runs the rest of the way just from being overly cautious.
"You can't make mistakes like that at this level. You've got to know the outs, you've got to know the situation, when to take a chance and when not to take a chance," said manager Joe Torre to MLB.com. "I'm pretty sure it won't happen again. That guy's got to score to tie the game. We need to think a lot better than that."
There's no question that Johnson and Martin screwed up, but the lasting effects may be more damaging.
-- Evan Brunell

For more baseball news, rumors and analysis, follow @cbssportsmlb on Twitter.