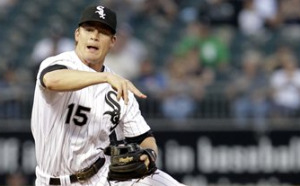 Gordon Beckham
had a rapid ascension to the major leagues after being the eighth overall pick in 2008. He made his debut June 4, 2009 and went on to post a strong .270/.347/.460 line in 102 games as a 22-year old.
In the offseason, Beckham was shifted to second base and expected to be a significant offensive contributor, starting the season batting second. However, he has now been moved to ninth and may be on his way to the bench in a platoon situation after suffering a debilitating sophomore slump.
Beckham is batting a scant .199./270/.251, one of the worst offensive performers in the game. Yet, he still gets in the lineup every day and has amassed 231 at-bats on the year and whiffed 48 times which puts him on pace for 113 whiffs.
Manager Ozzie Guillen is now contemplating putting Beckham in a platoon situation with
Omar Vizquel
as a way to get 21-year-old
Dayan Viciedo
more playing time. Even though Beckham is struggling in every facet of the offensive game, the manager chose to focus on the strikeouts as Beckham's negative.
"If you strike out like that, you got to hit 40 home runs and hit .250," Guillen
told
Mark Gonzales of the
Chicago Tribune
.
"When you're batting ninth, [you're] the one guy has to put the ball in play," Guillen continued. "A lot of swings and misses, and only one home run. When you swing and miss and strike out that much, you got to be
Jim Thome
. You got to be that type of guy. But I'm really concerned about the strikeout situation."
Guillen seems to be overstating things a bit as strikeouts have been on the rise in recent years. In Guillen's playing career, 48 whiffs through 64 games would absolutely be cause for concern, but Beckham is tied for 82nd with five other players in 2010 strikeouts.
Yes, Beckham is certainly whiffing too much for someone that is batting .199, but anyone batting .199 strikes out too much. The problem is an overall offensive approach, not strikeouts. Other people are striking just as much as Beckham and producing.
Of Beckham's compatriots with 48 whiffs,
Russell Branyan
has 10 home runs,
Jason Kubel
is an important part of the
Twins
offense,
Stephen Drew
is a starting shortstop with a secure job, and
Sean Rodriguez
and
Cliff Pennington
both play part-time for the
Rays
and
Athletics
, respectively -- meaning their strikeout rate is actually higher than Beckham's.
It seems as if Guillen is looking at things from when he played, not how things are now. You definitely don't have to be Jim Thome to register 113 whiffs a year. In 2009,
Bobby Abreu
was 54th in the league with 113 whiffs, and
Chone Figgins
had 114. This is a completely new game, and these comments by Guillen should make one question if he understands the game as it is today to properly manage it.
-- Evan Brunell

For more baseball news, rumors and analysis, follow @cbssportsmlb on Twitter.