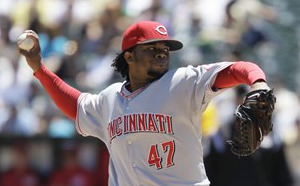 Johnny Cueto
took a lesson from
Mike Leake
and
Bronson Arroyo
in how to defeat the
Athletics
.
Leake and Arroyo can't dial their fastball into the high 90s -- unlike Cueto can -- but the two stymied Oakland's bats by putting together a nice blend of velocity and command.
John Fay of the
Cincinnati Enquirer
said
that Cueto decided to work around 91-92 mph and focus on location instead of rearing back to throw 95 and having questionable control.
Cueto went seven innings, throwing 100 pitches. While he whiffed just four, he walked only two and gave up seven hits, holding the A's scoreless.
As Fay says, it will be interesting to see if Cueto keeps his new mentality. He's got to evolve into a pitcher, not a thrower, and part of doing that is realizing that it's not always about velocity, but about spotting your pitches. Plus, unlike most pitchers, Cueto can dial it up in pressure situations and blow fastballs past the hitter.
Cueto burst on the scene with a great debut in 2008 before fading near the end and finishing with a 4.81 ERA in 31 starts. He faded yet again in 2009 and didn't perform up to expectations, finishing with 30 starts and a 4.41 ERA although he did show improving endurance. This year, he's at a 3.97 ERA in 15 starts, on pace for 200 innings. That would be a career-high, with 2008's 174 innings his current high.
-- Evan Brunell

For more baseball news, rumors and analysis, follow @cbssportsmlb on Twitter.