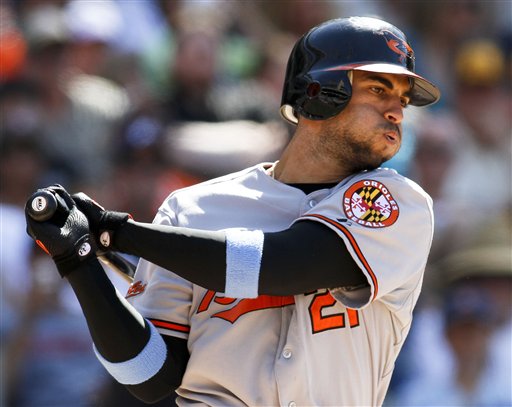 So who gets the check between a guy making $6.75 million a year or the guy who can afford to pay a guy $6.75 million a year?
Either way, the tip better be pretty good.
Anyway, Baltimore's
Nick Markakis
met with
Orioles
owner Peter Angelos for about an hour-and-a-half on Thursday, the
Baltimore Sun 's Jeff Zrebiec reports.
And because it lasted so long, it was likely more than Markakis telling him he sucks.
"I wanted to give him my input and tell him the things I thought we lacked and needed, and what we needed to change," Markakis said. "He's completely open to anything. He was listening, and he was a lot easier to talk to than I anticipated. You know me, sometimes you'll have a better conversation with the wall than talking to me. But it went a lot better and it was a lot smoother than I thought it was going to go. If I can strike up a conversation and talk to a guy like him who owns the team, I think it is a good situation."
Last week
Markakis made his displeasure with the team known
and wanted to talk to Angelos about it.
"I want to see this organization going the right way," Markakis said. "When you can get things turned around and in the right direction, this will be one of the best places in baseball to play. As players, as an organization, I think we owe it to fans and the people that are here to make that next step to show that we are willing and we do want to compete. We know we're in the toughest division in baseball, we know what we are up against. Right now, our backs are against the wall. All our top prospects in the minor leagues are here. I think it's unfair to put them in that situation where they feel like they have to go out there and do too much, and I think it's showing. We need to address that and go from there."
Markakis is in the second year of a six-year, $66 million deal with a club option for 2015, so he's pretty much stuck there.
-- C. Trent Rosecrans

For more baseball news, rumors and analysis, follow @cbssportsmlb on Twitter.