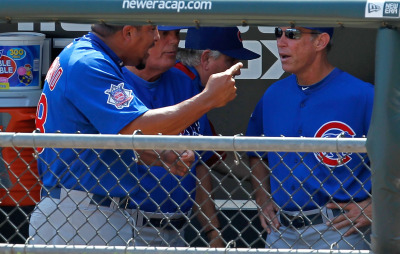 Carlos Zambrano
dropped a big ol' mess in the
Cubs
' laps Friday with his
latest tirade,
which gave the team no choice but to suspend him indefinitely.
Now the Cubs have to decide what's next.
Manager Lou Piniella said Zambrano would have to "at least" apologize to his teammates before he could return to the team, and just for easy reference the
Chicago Tribune
has compiled a list of notable
past Zambrano apologies.


The fact that he has done so many things that require apologizing points to the bigger question: Should the Cubs bring him back at all?
Gordon Wittenmyer of the
Chicago Sun-Times
says no, that
enough is enough.
A lot of Cubs fans agree with him.
At this point, the one and only reason to keep him is financial. It would cost $45 million to make this problem go away, and while it's easy for fans to say "good riddance," it's a tougher proposition when the money is yours.
Is Zambrano going to give the Cubs $45 million in baseball value if he stays? Probably not. He's not winning games now, and he's not likely to return to the form that made him an 18-game winner in 2007. At the moment, he's not even one of the Cubs' top five starting pitchers.
Is the absence of Zambrano going to save the Cubs $45 million in headaches? That's impossible to quantify.
The bottom line is that the $45 million is irrelevant to the question of whether to allow Zambrano to wear a Cubs uniform again. It's a sunk cost. They're going to be writing Zambrano checks for a long time, whether he's pitching for them or not. The money is spent, and it's difficult to picture a scenario in which the five-year contract they gave him in 2007 will go down as anything but a mistake. Next time they are tempted to pledge $91.5 million to a guy they know has the emotional maturity of a toddler, the Cubs will probably think twice.
The team can try to trade him, and as long as Chicago is paying the freight someone would probably be be desperate enough to take him off their hands. Zambrano has a full no-trade clause, but at this point you have to think he'd waive it to get a fresh start.
If I'm Cubs GM Jim Hendry, I'm doing everything in my power to convince ownership that it's not worth letting the bad apple continue to spoil the bunch.
-- David Andriesen

For more baseball news, rumors and analysis, follow @cbssportsmlb on Twitter.