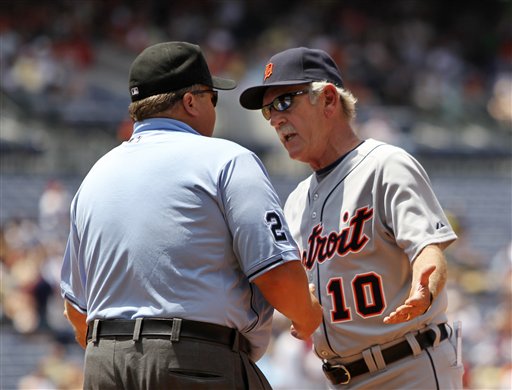 In what is becoming a trend, an umpire admitted to
Tigers
manager Jim Leyland that he missed a call.
Earlier this year it cost
Armando Galarraga
a perfect game, Saturday it may have cost the Tigers a victory. Leyland called Gary Cederstrom following Saturday's game-ending called third strike on a full count with bases loaded and two outs in the ninth inning of a one-run game.
Replays showed
Peter Moylan
's pitch to
Johnny Damon
was well wide of the strike zone.
Leyland talked to reporters before Sunday's game with the
Braves
and
according to Chris McCosky of the Detroit News
said: "You can't complain about yesterday's breakfast. But I called him after the game and I just said, 'I hope you take a look at the pitch.' He said, 'Well, I kicked it.' I knew that when it happened but watching the replay on television, it was brutal. It's not acceptable, especially in that situation. It's just not acceptable."
Following Saturday's game, Cederstrom told a pool reporter from the
Detroit Free Press
that he knew he missed the call immediately.
"It was a sweeping pitch, going away from Damon," Cederstrom said. "It looked good coming in, then broke late."
The umpire added: "My timing was fast. Whenever you have fast timing as an umpire, you usually get in trouble."
UPDATE:
Leyland was ejected in the fourth inning of Sunday's game for arguing a call at first base. Umpire Fieldin Culbreth called out
Justin Verlander
at first to complete a double play and Leyland went out to argue the call and was ejected. Cederstrom was at third base and stepped between Leyland and Culbreth before walking back to the dugout with Leyland and Leyland seemed to be giving Cederstrom a piece of his mind, as well.
Replays seemed to show that, once again, the umpires missed a call against the Tigers -- atlhtough, of the three, this one was the closest.
-- C. Trent Rosecrans

For more baseball news, rumors and analysis, follow @cbssportsmlb on Twitter.