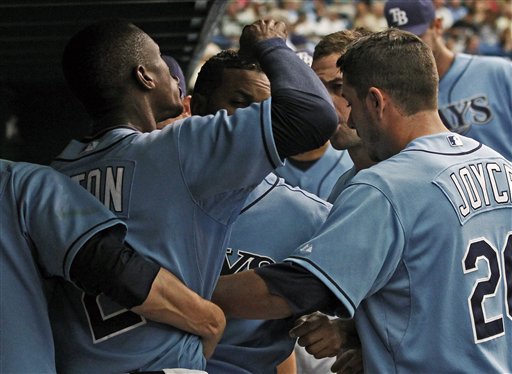 In what is becoming something of a trend in the last couple of days, teammates had heated words for each other in the dugout.
This time it was the
Rays
'
B.J. Upton
and
Evan Longoria
and Upton was restrained by teammates from going after Longoria. Here's how the
St. Petersburg Times ' Marc Topkin described the action
:
That came after Upton didn't run hard to chase down a ball hit into the gap that became a triple for Rusty Ryal in the top of the fifth. It appeared Longoria initiated the confrontation by saying something and Upton reacted angrily and had to be restrained by Willy Aybar.
Upton took his normal turn batting in the fifth and walked, than was picked off.
I'm sure there'll be more updates later, and we'll have the he-said, he-said following the game. Or more likely, everybody says, "it's no big deal, it happens in the course of the season."
UPDATE:
On Twitter, Topkin says
Upton declined comment and Joe Maddon will decide later if there will be any discipline.
UPDATE 2:
Another from
Topkin's Twitter account
: Upton changes course, does talk and says the matter has been settled, it was a "difference of opinion." That opinion, from what we saw, was that Longoria thought he dogged it, Upton disagreed. Longoria says the issue has already been "buried."
UPDATE 3:
The
Tampa Tribune
's
Tony Fabrizio has more up on the newspapers' Rays blog
.
From Maddon: "B.J. came in off the field after that particular play, and everybody saw it, and some guys were not real pleased. I was walking down that way, and certain things were said. It's not unlike what had happened a couple of years ago at Texas, where we had the [Matt] Garza-[Dioner] Navarro confrontation. It's something that happens during the course of a major league season. It happens on many teams, actually. It's just one of those moments that happen, and now it's up to me to handle it properly."
Upton: "Over the course of the season, it's going to happen. It's done with and over."
Longoria: "B.J. is an emotional player. When we're not playing up to our potential, things get multiplied. I don't think it got that out of hand, to be honest with you. It looks a lot worse from the outside."
So if you're keeping score, that's two, "it happens in the course of the season" quotes out of three. Not too shabby.
-- C. Trent Rosecrans

For more baseball news, rumors and analysis, follow @cbssportsmlb on Twitter.