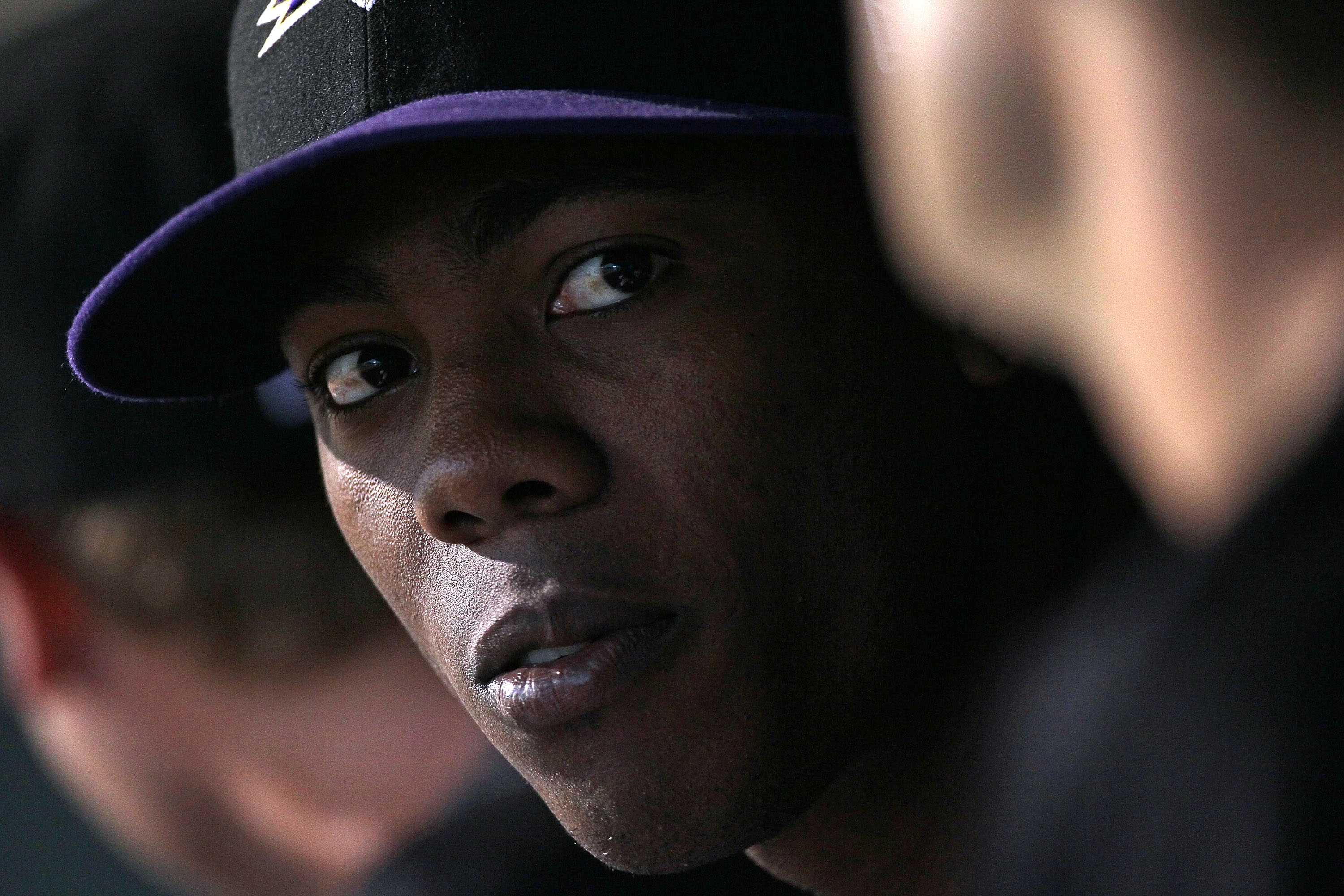 Aroldis Chapman continued to show shaky control in his new life as a reliever, hitting two batters and throwing two wild pitches Tuesday night against Durham for Triple-A Louisville.
The Cuban defector signed by the
Reds
in January for $30.25 million, has recently been moved to the bullpen for a possible call-up to Cincinnati after the All-Star break.
In three relief appearances, Chapman has allowed five runs -- four earned -- in 4 2/3 innings, striking out eight and walking one.
While batters are hitting just .200 off of him as a reliever and .242 overall, his control has been spotty, even with his fastball. Both of the batters he hit Tuesday night were hit by fastballs, and another pitch sailed over the head of a batter. He threw back-to-back wild pitches to score a runner.
Durham's Dan Johnson was hit with a 99 mph fastball in his elbow.
"I was an inch away from being done for the year,"
Johnson told the Durham Herald-Sun
.
Johnson may consider himself lucky, Dioner Navarro was hit by a fastball
Baseball America
's J.J. Cooper measured at 103 mph.
Wrote Cooper from the game:
Overall, Chapman took the loss and gave up four runs (three earned) while getting five outs, three via strikeout. He didn't have a lot of problems throwing strikes. Of his 40 pitches, 27 were strikes. He did have some problems with finishing off batters; both of the hits against him came on two-strike counts after hitters had fouled off previous two-strike fastballs. Chapman showed a slider that is a definite weapon, but he didn't seem completely comfortable using it late in the count.

Unlike his time as a starter, Chapman's velocity didn't vary much as a reliever. Of his 37 fastballs, 29 were thrown at 98 mph or better including one at 103, two at 101 and six at 100 mph. But when Chapman did miss, he missed badly. It's worth noting that Chapman showed the same hit-or-miss control in his bullpen warm-up. He showed several nasty sliders, but he also bounced a pitch that got away from the bullpen catcher and ended up rolling past the Bats' dugout.
-- C. Trent Rosecrans

For more baseball news, rumors and analysis, follow @cbssportsmlb on Twitter.