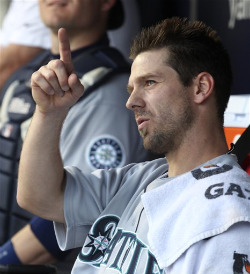 So far, it looks like
Mariners
general manager Jack Zduriencik is taking calls about
Cliff Lee
, but he's
not making any.
It's widely assumed that the Mariners will deal Lee, the best starting pitcher expected to be available at the trade deadline. Technically, however, Lee doesn't appear to be on the market yet.
The Mariners' recent run of good play, then their
surprising trade
for (at least potential) offensive boost
Russell Branyan
on Sunday had people wondering: Do the Mariners still think they have a shot this year? And if so, might they keep Lee?
The answer to both of those questions is almost certainly no.
Yes, Seattle is playing its best ball of the year, winning nine of its past 12. Twice over that span, Lee and
Felix Hernandez
have delivered a 1-2 punch to a division-leading team (the
Reds
on June 18-19, the
Yankees
the past two days). That is conjuring visions of what might have been, if only Zduriencik had built the team with even adequate offense.
Unfortunately for the Mariners, winning 9 of 12 has gotten them nowhere in the standings. In fact, they've gone from 12 1/2 games behind Texas in the American League West to 14 games behind the sizzling
Rangers
.
The Branyan trade, according to
Zduriencik's comments
afterward, was meant to help his young team know what it feels like to win once in a while:
"If you look at our team, as we move forward, just about every player who is here now will be here again next year," he said. "We're committed to the development of our players and that goal, that objective, has never changed for us. But part of that development process is also winning games. We want our players to be able to experience winning games this year. And we're trying to do what we can to give them what they need to get there."
Zduriencik knows 14 games is too much to overcome, or at least too far back to operate as if you're a contender. Only a contender should have Lee, who is going to be a free agent after the season and is pitching at the absolute top of his game, in the second half of the season.
Zduriencik still has 30 days to wait and see which contender makes the best offer. If something crazy happens and Seattle ends July within shouting distance in the division, it's not impossible that the Mariners would keep Lee and try to make a run. But it's extremely unlikely.
-- David Andriesen

For more baseball news, rumors and analysis, follow @cbssportsmlb on Twitter.