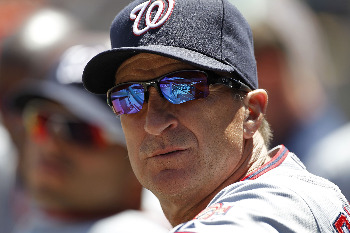 Despite being in last place,
Nationals
manager Jim Riggleman likes his team and wants to keep it together for the future. How they play for the next month will determine whether, or at least to what extent, that happens.
The Nationals are 11 1/2 games back in the National League East, but there's reason for hopefulness -- and not just because of
Stephen Strasburg
. Washington is 10 games under .500, but on pace to finish with 71 wins, which would be the team's best finish in three years. With a little luck, they might even escape last place, something they've done just once since leaving Montreal in 2004.
The Nationals are in a sort of netherworld as the trade deadline approaches -- not buyers, but not in position for a fire sale, either. Riggleman has told his team, according to
MASNsports.com,
that the more they show they're headed in the right direction in the next few weeks, the more likely they are to stay together.
"My message to them was, 'Let's get this thing going so we're not taking this team apart. Let's get this thing going to the point where we become more of a factor in the division, and we're able to win enough ballgames to justify keeping the team together,'" Riggleman said. "There's a lot of season to play, but there's not a lot of season to the trade deadline. So we need to make a move in that direction sooner than later, because if we want to keep this ballclub together, we need to do that."
The Nationals' best trade chip is
Adam Dunn
, who is in the final year of his contract. Dunn has said he wants to stay in D.C., but the
White Sox
and
Angels
have been rumored to have interest.
-- David Andriesen

For more baseball news, rumors and analysis, follow @cbssportsmlb on Twitter.