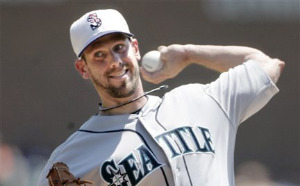 Could Jack Zduriencik of the
Mariners
be trying to engineer a three-team trade?
Buster Olney of
ESPN
speculates
on
Cliff Lee
's future -- as everyone will do up until he is traded -- and notes that Seattle wants a "difference-making hitter" in any Lee trade.
Olney suggests
Justin Smoak
from Texas, but it's hard to imagine the
Rangers
agreeing to that. Perhaps Chris Davis is a more viable alternative, but Texas would then have to upgrade other elements of the package.
Another player that may catch Seattle's eye is Yonder Alonso of the
Reds
. Alonso was drafted as a first baseman but since
Joey Votto
has that position locked up, has been playing left. The Mariners could return him to his natural position of first or even slot him as DH, and the Reds would certainly love Lee as they make a push for the NL Central crown.
Olney then turns his attention to Brett Lawrie of Milwaukee. When Jack Z worked for the
Brewers
, he selected Lawrie in the first round of the 2008 draft. Lawrie has since emerged as one of the best prospects in the game while manning second base. Even though the Brewers are out of the race and wouldn't be interested in a Lee-for-Lawrie swap, Olney speculates that Zduriencik could engineer a three-way trade, sending Lee to the Reds, a stable of pitching prospects from Cincinnati to Milwaukee (fulfilling the Brewers' need for pitching) and Lawrie to the Mariners.
There's nothing to support this trade, but it's an intriguing idea.
All that said, Charley Waters of the
Pioneer Press
hears
that the
Twins
are the frontrunners for Cliff Lee and are currently deciding whether Wilson Ramos should be made available to Seattle, who craves a young catcher. Interestingly enough, Waters says the Mariners love their 26-year-old catcher, Adam Moore, so Ramos may not be as available. Hard to imagine any team turning Ramos down who is head and shoulders above Moore but even if that's the case, Minnesota has more chips they can send out.
That starts with center fielder Ben Revere, who -- despite a clear lack of power -- has advanced well in the system since being selected in the 2007 draft. Joe Benson is another outfielder in the system that could be available, as well as major-league starting pitcher
Nick Blackburn
. It's doubtful Seattle would entertain Blackburn as the last thing they need is another back-of-the-rotation starter.
The Cliff Lee sweepstakes are heating up, and it's anyone's guess who plucks the prized left-hander with an obscene 89/6 K/BB ratio.
-- Evan Brunell

For more baseball news, rumors and analysis, follow @cbssportsmlb on Twitter.