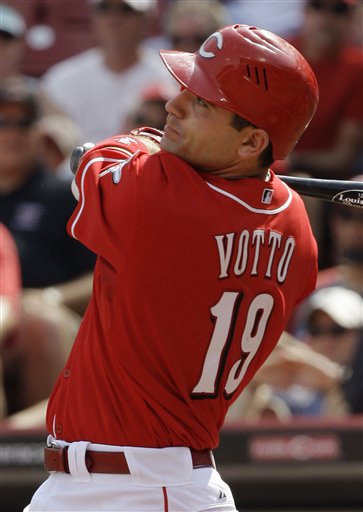 Perhaps the fans have a better handle on who should be on the National League All-Star roster than Charlie Manuel.
Reds
first baseman
Joey Votto
is leading National League portion of the All-Star Final Vote after 24 hours, Major League Baseball announced in a release on Monday. The
Yankees
'
Nick Swisher
leads the American League voting.
More than 10 million votes came in the first 24 hours, with Swisher leading Boston's
Kevin Youkilis
slightly, followed by
Michael Young
,
Paul Konerko
and
Delmon Young
.
In the National League, it's Votto, followed by
Ryan Zimmerman
,
Billy Wagner
,
Carlos Gonzalez
and
Heath Bell
.
Votto was the most obvious All-Star snub, in part because Manuel took his own player,
Ryan Howard
, over the more deserving Votto. The fans selected
Albert Pujols
at first and
Adrian Gonzalez
was another deserving selection at first.
But Howard, who is having a great season, was picked by Manuel over Votto, who is having a great season.
Votto leads the league in OPS (.984), is third in on-base percentage (.412), fifth in batting average (.312), third in slugging (.572), fourth in runs (53), tied for second in home runs (19), fifth in RBI (57) and fifth in walks (46).
Howard's only in the top 10 in one of those categories, runs (53), and even that trails Votto. And it's not as if it's Howard's glove that got him to Anaheim.
In the American League, Youkilis is clearly more deserving than his Yankee brethren. Youkilis is fourth in OPS (1.000), third in OBP (.416), first in runs (65), seventh in home runs (17) and second in walks (50). Swisher is not in the top 10 in any important category other than pinstripes.
-- C. Trent Rosecrans

For more baseball news, rumors and analysis, follow @cbssportsmlb on Twitter.