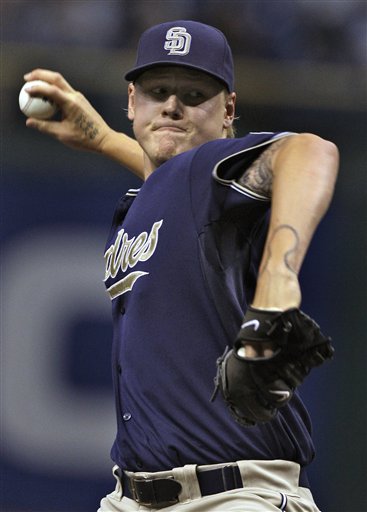 As happens every year, injuries will make several snubs All-Stars anyway.
SoCal's aces should get a chance to play in Anaheim based on recent injuries.
Boston's
Clay Buchholz
is headed to the 15-day disabled list, while Milwaukee's
Yovani Gallardo
is not going on the DL yet, he will not be available to pitch in next Tuesday's All-Star Game,
Brewers
manager
Ken Macha told MLB.com's Adam McCalvy
.
"Throwing in the All-Star Game? No," Macha said. "I'm saying that, best-case scenario, he's probably going to be doing no baseball activities for a least 10 days. … He's not going to pitch in the All-Star Game. You can't have a guy walk off the mound one week and then put him in [the All-Star] Game the next. No."
Gallardo could still go on the disabled list, though, with his strained left rib-cage muscle. He is scheduled to see the team's doctor on Monday. The Brewers brought outfielder Lorenzo Cain up from Triple-A Nashville to be at the park in case Gallardo is put on the disabled list.
Gallardo, certainly deserving of his All-Star spot, could make way for
Mat Latos
. The
Padres
' right-hander is 9-4 with a 2.62 ERA and leads the National League with a .963 WHIP.
On the American League side, there are at least thee spots on the pitching staff because of Buchholz's injury and the new rule stating that keeps pitchers from starting on the Sunday before the All-Star Game and in the game itself. That rule will take the
Yankees
'
CC Sabathia
and the A's
Trevor Cahill
from pitching in Anaheim.
Joe Girardi will reportedly replace Sabathia with
Andy Pettitte
, while Anaheim's
Jered Weaver
should get one of the spots to appear in his home park. Weaver leads the AL in strikeouts with 124 and is 8-3 with a 2.72 ERA. Other possibilities are
Justin Verlander
,
Felix Hernandez
and
Andrew Bailey
.
-- C. Trent Rosecrans

For more baseball news, rumors and analysis, follow @cbssportsmlb on Twitter.