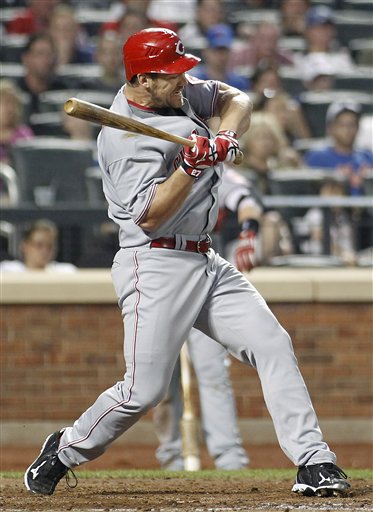 When you ask
Scott Rolen
a question, there's usually a pause before he starts to answer it. There's a reason -- he likes to think before he speaks.
Never is Rolen bombastic or does he seek a headline. Usually, whatever the
Reds
third baseman says is backed with experience and reason.
When the Reds were in Chicago, he was asked about the
Cubs
' ails.
Here's what he told the Chicago Tribune
:
"The Cubs are very limited facility-wise and that dramatically limits the work the players can do day to day," he said. "The clubhouse and weight room are significantly below par. They play a different schedule than everybody else in baseball. The day games are very hard to deal with day after day. Plus, when you have so many different starting times from 1:20 to 12:05 to 7:05 then play mostly all night games when you go on the road, I think the Cubs have their back against the wall.

"In Cincinnati we have a track to get loose on and three batting cages that a pinch hitter can use before he comes up to hit. (The Cubs) don't have anywhere for a pinch hitter to get swings in before he hits."

Rolen also told us that he believes that to win the Cubs need a younger team because of the grind of day games.

"However, with young players in a great city like Chicago, you have to make sure that you have guys who are committed to winning because the night life in Chicago can keep a player from performing at his very best," he said.
Rolen's words appparently also carry great weight with the umpires. In one of Monday's oddest plays, a Rolen strikeout was changed to a hit-by-pitch, starting a six-run Reds rally in the team's 8-6 victory over the
Mets
.
With the bases loaded and two strikes no outs in the fifth, New York's
Mike Pelfrey
threw a pitch inside to Rolen and home plate umpire Jerry Meals initially called it a foul tip, caught by the catcher for a strikeout as Rolen trotted toward first base. When Rolen noticed the runners weren't advancing, he saw that Meals had called him out.
"I said, 'if that's your call, you got it wrong.' I wasn't going to yell and scream.," Rolen
told the Cincinnati Enquirer 's John Fay
.
The umpire conferred and overturned the call, ruling the ball did indeed hit Rolen, sending him to first and breaking the 1-1 tie and leading the Reds to a win.
-- C. Trent Rosecrans

For more baseball news, rumors and analysis, follow @cbssportsmlb on Twitter.