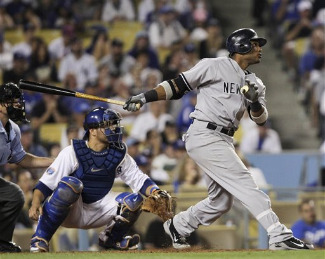 Teams don't get to choose whether their players participate in the Home Run Derby.
That doesn't mean they have to like it.
Yankees
second baseman
Robinson Cano
will be one of eight players in the hitting contest next Monday, but the team would prefer he weren't involved. There is mounting anecdotal evidence that participating in the Derby -- which involves repeating an unnatural, go-for-the-fences swing dozens of times -- can have lasting effects on a player.
In 2008,
Rangers
outfielder
Josh Hamilton
put on an amazing display at the Derby, hitting a record 28 home runs in the first round. His home run production took a pronounced drop, 21 in the first half of the season and just 11 in the second, and Hamilton has said the Home Run Derby threw off his swing.
Bobby Abreu
and
Albert Pujols
have similarly slumped and said the Derby affected them.
More and more players are declining Derby invitations, but Cano couldn't resist the chance to take center stage. He'll be joined by
Miguel Cabrera
of the
Tigers
,
David Ortiz
of the
Red Sox
,
Vernon Wells
of the
Blue Jays
,
Corey Hart
of the
Brewers
and
Matt Holliday
of the
Cardinals
. The National League has yet to name its two other participants.
"I would prefer he's not involved in it, but that's not my decision," Yankees hitting coach Kevin Long said of Cano in the
New York Daily News.
"History suggests that guys that do the home run hitting contest get fatigued and exhausted from the process. I'm happy for the fact that he's maybe getting the opportunity, but in the same breath we have to be careful in how he goes about this."
Cano has said he's just going to take the normal swings he would take in batting practice, and manager Joe Girardi hopes that's true.
"I think it's a lot of swings for a player; physically, I think it's somewhat of a grind, but it's an honor to be involved," Girardi said. "The biggest thing is that we keep Robinson Cano healthy and strong the whole year. If that in any way would fatigue him, then I would prefer that he didn't get fatigued."
-- David Andriesen

For more baseball news, rumors and analysis, follow @cbssportsmlb on Twitter.