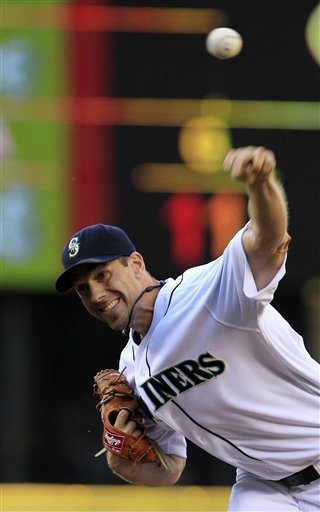 Is your team in on the
Cliff Lee
sweepstakes?
Chances are -- unless you're a
Pirates
or
Orioles
fan, the answer is yes.
An anonymous source
tells Newsday's Ken Davidoff
that "pretty much every team within five games of the playoffs" has called the
Mariners
about Lee.
So, if you're counting, that's 17 teams, nine National League squads and eight American League clubs.
Besides the whole 15 games under .500 thing,
Seattle general manager
Jack Zduriencik must feel like the prettiest girl in school.
This is far from a final list, and I could be completely wrong -- but here's a listing of the possibilities in some semblance of an order. Feel free to offer your own favorites.
1. Twins
-- still a good possibility, they've got the desire, the prospects (Wilson Ramos, Aaron Hicks) and with a new ballpark, they also have an influx of cash and urgency to do something special. With Lee, we could have some postseason snow-outs.
2. Mets
-- the other New York team is always out there trying too hard -- like your one friend who gets a little too dressed up and has that extra spray (or four) of cologne when you go out. Sadly, he always seems to strike out.
3. Reds
-- never underestimate the desire of an owner to make a splash. Bob Castellini is an emotional owner and believes firmly in his town's desire to see a winner and ultimately support it. If the Mariners want corner prospects, the Reds could dangle Yonder Alonso and Juan Francisco -- blocked by
Joey Votto
and
Scott Rolen
's three-year extension, respectively. There's also Todd Frazier, who can play about anywhere, and pitchers Matt Maloney and
Travis Wood
, who could be added to the rotation right away.
4. Rangers
-- they're not as long of a long shot as you might think. Lee's not about money. It's about prospects, and
Justin Smoak
is a prospect that would fit perfectly.
Roy Oswalt
would be costly; Lee is only $4 million for the rest of the season. If money's still an issue, they could sweeten the pot with another prospect. MLB -- the organization -- has a vested interest in the Rangers and they'd likely loan the Rangers the money to make it work. A Rangers team in the playoffs is more valuable to a bidder than one that breaks down in August.
5. Yankees
-- the team could go get him, but why rent him now and give up prospects when you've still got a good shot at winning and will just buy him in the offseason, anyway. That way you keep the prospects. But with the Yankees, you've always got to have them in the discussion. They're a courtesy top five, due to the fact they're the Yankees.
6. Rays
-- pitching depth isn't a problem in this system, but they have a potential impact bat in
B.J. Upton
, and a serviceable catcher in Dioner Navarro. A Lee-David Price front of the rotation could be lights-out in a short series.
7. Phillies
-- yeah, the Phillies could add the former Phillie, but it would likely cost them Domonic Brown -- who GM Ruben Amaro Jr. wouldn't give up for
Roy Halladay
. The desire is there, but the prospects may not be.
8. White Sox
-- the news on
Jake Peavy
makes them the highest-riser on the list, plus GM Kenny Williams loves to make a splash, and this would certainly qualify.
9. Cardinals
-- despite needs to fill out their rotation, the Cardinals are reportedly looking for bats more than arms. Still, it's tempting to think of a playoff rotation of Lee,
Chris Carpenter
and
Adam Wainwright
-- that would make them a favorite based on "the great"
Albert Pujols
' offense alone.
10. Tigers
-- Detroit could use him, that's for sure. GM Dave Dombrowski has never shied away from a big deal, but it's unclear whether Detroit has the juice in either prospects or cash to get it done.
11. Red Sox
-- a lot of needs with all their injures, Lee would be a luxury -- not that they haven't indulged in those in the past.
12. Braves
-- Atlanta could certainly use Lee -- who couldn't? -- but they don't seem like a fit in either needs or assets. The Braves, more likely will be crossing their fingers that Lee doesn't land in the NL East, which is still up for grabs.
13. Rockies
-- they are more likely to fine-tune than to do anything big. GM Dan O'Dowd has prized prospects and is unlikely to mortgage the future for a rent-a-player.
14. Padres
-- sure, they're broke and they're pitching well, but there is some reason here. 1. Owner Jeff Moorad has said he'll deal for an arm if he can, and 2. most of the Padres arms are young arms.
Mat Latos
,
Wade LeBlanc
and
Clayton Richard
may not only tire down the stretch, Latos, at least, is on an innings count of 150 to 180 and he's already an out away from 100 innings on the season.
15. Giants
-- looking for bats, not arms.
16. Angels
-- ditto.
17. Dodgers
-- Jamie McCourt is unlikely to give any of her alimony to help Frank out.
-- C. Trent Rosecrans

For more baseball news, rumors and analysis, follow @cbssportsmlb on Twitter.