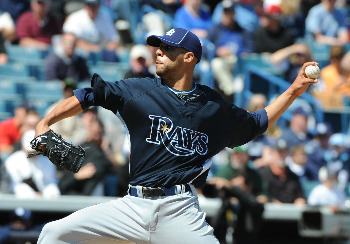 On a media conference call for All-Star managers Thursday,
Yankees
/American League skipper Joe Girardi seemed to hint that the
Rays
'
David Price
will get the nod for the AL.
"I believe he is a strong candidate,''
Girardi said
of Price. "Obviously when you look at the five pitchers that we have going, the five starters -- and you have to exclude [Boston's Clay] Buchholz because he's on the DL -- Price, [New York's Phil] Hughes, [Seattle's Cliff] Lee, [Boston's Jon] Lester, and [New York's Andy] Pettitte, these are all qualified guys. And you look at who's on turn.
"Price is leading the American League in wins. He's an extremely strong candidate. I think he's second in ERA. He's had a fabulous first half. And we'll look at that as we get closer to Sunday."
Girardi has until Monday to announce his decision, and it would be tough to argue against the selection of 24-year-old Price. He has won a league-best 12 games, is second to Lee among qualifying players with a 2.42 ERA and Tuesday would be his natural day to start.
Lee might be able to make an even better case with his AL-best ERA (2.34) and WHIP (0.95). But he's won four fewer games than Price (even though that's hardly his fault) and would be on four days' rest. Then there's the matter of his thought-to-be-impending trade, and the possibility that he might be in another uniform -- or in the National League -- by the All-Star Game.
Speaking of the National League, Charlie Manuel is in a bit of a tough spot. Colorado's
Ubaldo Jimenez
would seem to be a no-brainer given his accomplishments this season (15-1 record, 2.20 ERA, no-hitter), but he had been surprisingly human in his three starts (8.66 ERA) prior to Thursday's impressive win over the
Cardinals
. Florida's
Josh Johnson
, on the other hand, is on fire right now and leads baseball with a 1.70 ERA.
-- David Andriesen

For more baseball news, rumors and analysis, follow @cbssportsmlb on Twitter.