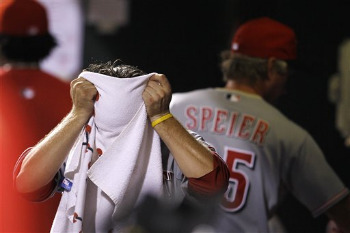 Not many pitchers have experienced precisely what
Mike Leake
was feeling Friday night when he was burying his face in a towel, unable to watch or comprehend what was happening.
The
Reds
' rookie right-hander sailed into the ninth in Philadelphia with a 7-1 lead, only to
watch it collapse.
He gave up four earned runs in the ninth, the
Phillies
scored two more to tie it and then won it on
Cody Ransom
's two-run homer in the 10th.
It was deja vu for Leake, who also started a game May 20 in which the
Braves
overcame a 9-3 deficit in the ninth to win on a walk-off grand slam by
Brooks Conrad
.
According to Elias Sports Bureau, the Reds are the first team in major-league history to lose two games in a season in which it led by six or more entering the bottom of the ninth. Leake is not only the first person to have that happen to him twice in a season, he's the only man to have it happen to him more than once
in an entire career.
At least the Reds are not alone, not even this week. The
Rockies
scored nine in the ninth to beat St. Louis 12-9 on Tuesday. Elias says this is the first time in history three teams have pulled such a big comeback in one season.
-- David Andriesen

For more baseball news, rumors and analysis, follow @cbssportsmlb on Twitter.