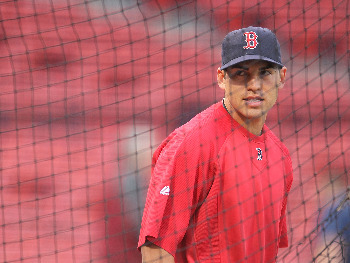 Injured
Red Sox
outfielder
Jacoby Ellsbury
held several pages of handwritten notes (written, one wonders, by him or agent Scott Boras?) on Saturday as he spoke to reporters and gave his side of the rib injury saga that has derailed his season and apparently put him at odds with teammates.
The
team's position
is that Ellsbury suffered two injuries: Four fractures suffered in an April collision with third baseman
Adrian Beltre
, and additional unrelated fractures in a different area of the ribcage that happened as the result of diving for a ball in May.
Ellsbury said Saturday that there was only one injury, in April, and that the Red Sox medical staff had failed to test and diagnose the second set of fractures at the time. He said he and Boras had specifically requested MRI exams of both the front and back of the ribcage, which they contend would have revealed the extent of the injury and changed his rehabilitation plan, but that it wasn't done.
"That's where the pain was -- front and back,"
he said
in the dugout at Rogers Centre, looking at his notes. "That's important to remember that. Front and back. That's what I asked for."
Ellsbury contends that the second "injury" was just pain from strained muscles resulting from trying to play despite the rear fractures.
"By me missing [rehab] time and it getting worse, it just multiplies the situation," he said.
Does this sound to anybody else like a guy in a foam neck collar trying to lay the groundwork for a lawsuit? Not saying he's not right, but Saturday's media session was clearly carefully planned to establish Ellsbury's position and try to cast blame on the team.
Ellsbury already was the subject of whispers and
outright complaints
about him choosing to rehab at an Arizona training facility rather than staying with the team. Both Ellsbury and the team have said it was the outfielder's choice and that he was away with full permission. After checking in with the team's medical staff this weekend, Ellsbury was to return to Arizona.
It's not clear what Ellsbury and Boras are hoping to gain by this public display, except to form the basis for a financial argument when Ellsbury becomes arbitration-eligible after this season. But it doesn't figure to make Ellsbury any more popular with peers or management.
-- David Andriesen

For more baseball news, rumors and analysis, follow @cbssportsmlb on Twitter.