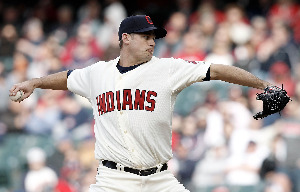 Can you imagine what Jamey Wright's closet looks like? How many different-colored duffel bags and warmup jackets he must have?
Mega-journeyman Wright was
signed as a free agent
by the
Mariners
on Thursday, and when he makes his first appearance Seattle will officially become his eighth major league team.
It's also his third organization in the past five weeks. Wright, 35, started the season with Cleveland, appearing in eight major league games, before the
Indians
released him June 10. On June 16, he signed as a minor-league free agent with Oakland, then opted out of that contract to sign with the Mariners. He went to spring training once before with the Mariners and didn't make the team.
His career transactions list looks like Al Capone's rap sheet, but the Oklahoma City native has made a decent living off his vagabond career. According to
baseball-reference.com,
he's made nearly $12 million. Not bad for going 83-117 with an ERA over 5.
In case you're wondering, the record for most major league teams is 12, shared by four players: Deacon McGuire (1884-1912), Mike Morgan, Ron Villone and
Matt Stairs
. The title of Ultimate Journeyman has to go to Villone, who made his 12 stops over a span of just 15 seasons. The 40-year-old lefty is in the
Nationals
' minor-league system, so he still has a chance to set the record (as does Stairs, who is with the
Padres
).
-- David Andriesen
For more baseball news, rumors and analysis, follow @cbssportsmlb on Twitter.