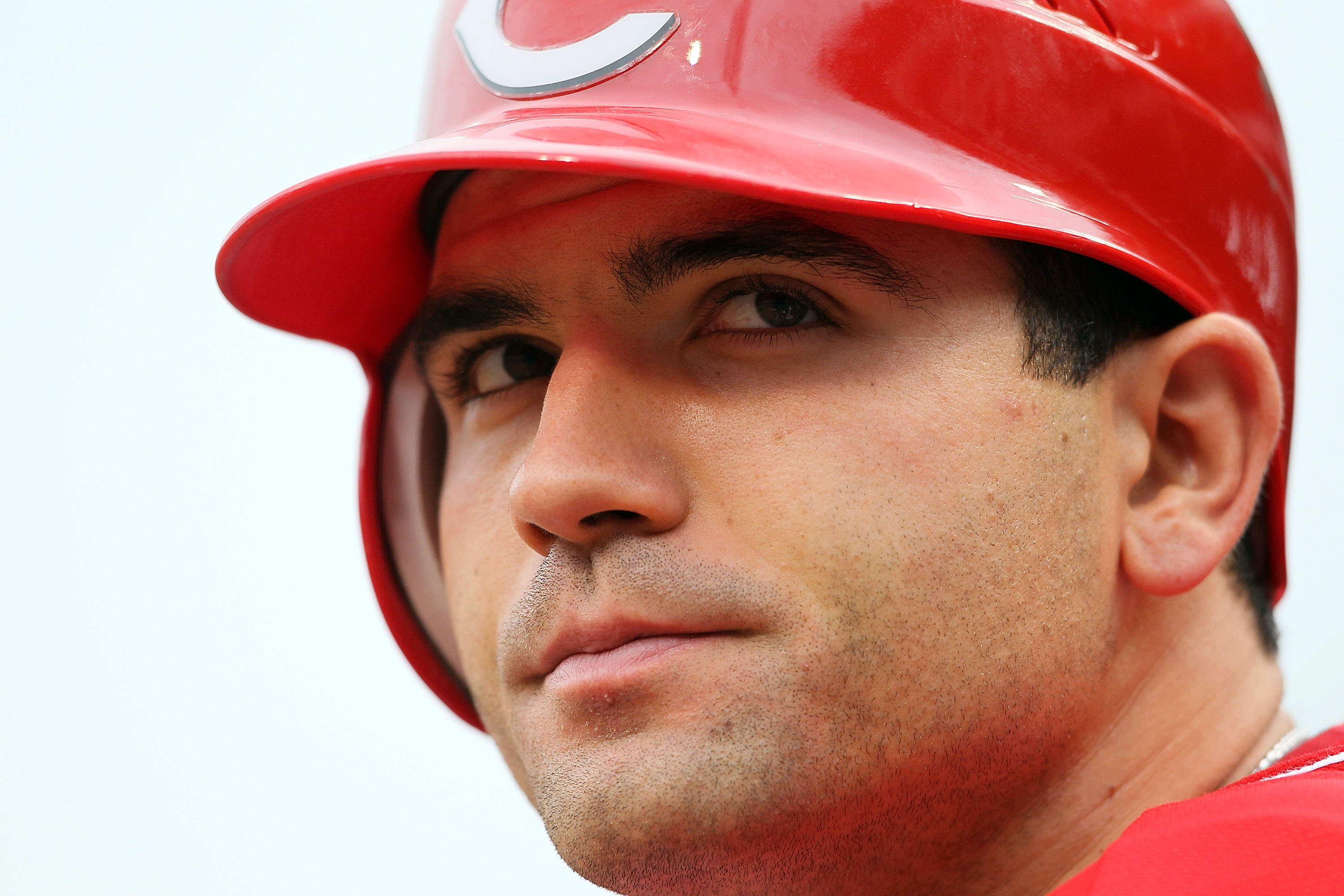 CINCINNATI --
Joey Votto
said he was joking when he told a Chicago reporter he didn't like the
Cubs
following the All-Star Game, but he doesn't mind being the target of Cubs fans boos.
"I think it's kind of fun to play the heel," Votto said.
Following Tuesday night's All-Star Game, Votto was
quoted by ESPNChicago.com's Bruce Levine
as saying, "I don't like the Cubs. And I'm not going to pat anybody with a Cubs uniform on the back."
Friday, Votto noted he was laughing when he said that and it may not have come over quite right when seen in black and white.
"The shame of it is Marlon and I got along the best on the bench and in the outfield and stuff, I talked to him and I was one of the first people to congratulate him in Chicago [when the All-Star teams were named]," Votto said Friday. "It was definitely taken out of context. I was laughing when I said it. I have the utmost respect for the Cubs in general -- not necessarily for the fans, but …"
Votto laughed after he said that, but the blog
Church of Baseball
, run by a
Reds
fan, dug up this video earlier this week in the wake of the Votto-Cubs flap.
The video shows Votto telling a young Cubs fan "I don't sign for Cubs fans."
Votto didn't deny that, either.
"I don't," Votto said, with a laugh. "I try not to. They're in our same division and we play good baseball against them. I think it's kind of fun to play the heel. Not everything has to be friendly, we take it seriously every time we go there. It's not just a game to us, it's our job."
Votto traces his Cub-dislike to 2007, when he was called up in September and watched the Cubs celebrate a division title at Great American Ball Park in Cincinnati.
"I still remember that now, I remember them looking at the scoreboard and Cubs fans cheering and everyone in the stands wearing blue," Votto said. "I still remember that and it meant a lot to me. I guess I should probably let it go, but I'm not an easy forgiver."
The Cubs' Byrd didn't seem too worked up about the "controversy"
telling MLB.com's Carrie Muskat
that he understood Votto's sentiment.
"That's the competitiveness of Joey Votto," Byrd said. "He's an MVP candidate right now, he's going to say what he believes. But at the same time, I don't think any Cub is going to be patting anyone on the Cincinnati Reds on the back during the season. They're the ones in first place and we're chasing them. We're going to have to come after them hard."
Cubs manager Lou Piniella said he understood Votto's statement as well.
"I don't think he likes the
Cardinals
either," Piniella told Muskat. "I think it's more of an [intradivisional] thing."
-- C. Trent Rosecrans
For more baseball news, rumors and analysis, follow @cbssportsmlb on Twitter.