Less than a year after undergoing Tommy John surgery,
Edinson Volquez
was on the mound once again Saturday night, throwing 95 with a viscous changeup. In front of a sell-out crowd at Great American Ball Park, Volquez allowed just three hits to the Colorado
Rockies
and struck out nine in six innings, as the
Reds
kept pace with the
Cardinals
thanks to an 8-1 victory.
"Getting Volky back, especially a productive Volquez, is like making a major trade," Reds manager Dusty Baker said. "You get a guy back, it'd be hard to find anyone out there better than he was. That was an outstanding performance, and he picked our whole team up. The guys are elated to have him back, you could tell the way they responded."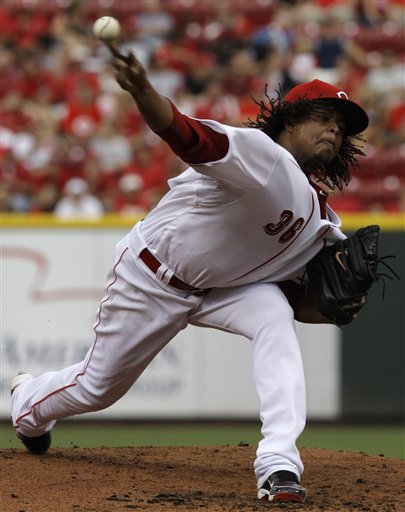 Volquez, an All-Star in 2008, joins a Reds rotation that started slow but has come on strong of late, in part bolstered by rookie
Travis Wood
. Wood, who was edged out for the fifth starter's spot in spring training by
Mike Leake
, will make his fourth start on Sunday. Despite not picking up a win in his first three starts, Wood impressed taking a perfect game into the ninth inning against the
Phillies
last week. In addition to Wood (0-0, 2.18), the Reds rotation consists of the reliable
Bronson Arroyo
(10-4, 3.95 ERA), a
Johnny Cueto
who seems to be putting it together (8-2, 3.42) and Leake (6-1, 3.53).
"I think we've got the best pitching staff in baseball," said second baseman
Brandon Phillips
, who hit a three-run homer in the fourth inning.
That 's likely overstating it more than a little -- but one-through-five, they may have the best starting pitching in the division, and that'll be important down the stretch. The Cardinals may be better with their first three, but St. Louis would welcome the guy Cincinnati sent down on Saturday (Matt Maloney) for one of the other two spots.
And with Volquez back, the team added a potential ace.
"For him to go out and pitch like he did today, there's a lot of teams in trouble," Phillips said.
Volquez's quick return should raise some eyebrows, considering his 50-game suspension for performance-enhancing drugs earlier this season. Volquez has stuck to his story that he used a fertility drug to help him start a family with his wife. However, the drug was similar to the one
Manny Ramirez
was suspended for using a year ago.
Volquez looked similar to the pitcher that made the 2008 All-Star team, with his fastball sitting around 95 mph and a nasty changeup. The one difference was a newfound confidence in his curveball -- that and more hair. A lot more hair, but the curveball was just as natty as the dreads that added a couple of hat sizes to Volquez's melon.
"The last couple of years I didn't throw my curve, [tonight] I threw it a lot," Volquez said. "I felt more comfortable with it than my changeup. Last night I told [Francisco] Cordero my curve was better than my changeup. I told him I'd show him. Today he said, 'yeah, you're right.'"
Reds catcher
Ryan Hanigan
said he didn't know how they'd use the curveball, but both he and Volquez noticed early on he had a good feel for it and they used it more and more.
"We didn't throw it that much in rehab starts in Triple-A, but he had such a feel for it and threw it so much, he got some quality strikes and strikeouts on that pitch tonight that was great," Hanigan said. "I wasn't expecting it."
Volquez admitted he was a little too excited in the first inning when
Dexter Fowler
doubled and
Carlos Gonzalez
singled him in. He needed 22 pitches that inning and used 55 pitches to get through three innings. However the second and third time through the Rockies' lineup, no batter registered a hit.
"By the third, fourth inning, his stuff was ridiculous," Hanigan said. "He threw all his pitches whenever he wanted to with the action I've seen from him in the past. It's impressive to see a guy like that command all his pitches so well in his first start. When he does that, he's tough."
-- C. Trent Rosecrans
For more baseball news, rumors and analysis, follow @cbssportsmlb on Twitter.