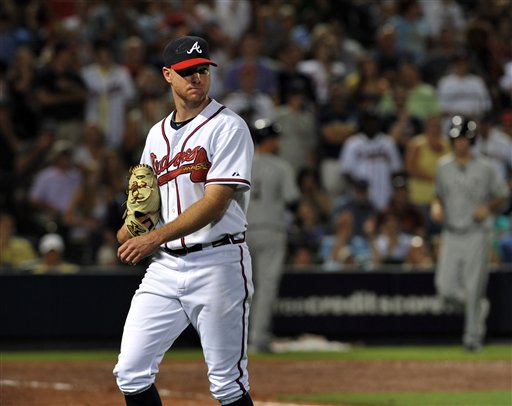 Major League Baseball has suspended
Braves
left-hander
Jonny Venters
four games and manager Bobby Cox one, according to Carroll Rogers of the Atlanta Journal-Constitution.
Venters threw back-to-back pitches at
Prince Fielder
in Saturday's game against the
Brewers
. He was warned after the first one went over Fielder's head and was successful, hitting Fielder in the back, with the second.
Bob Watson wrote Cox was suspended for "the intentional actions of Venters after a warning had been issued to the pitcher following the first intentional pitch thrown at Fielder."
After the game, Venters (and Cox) denied the actions were intentional, even though it was the second consecutive game Fielder was plunked. In Friday's game he was hit following a
Ryan Braun
homer and Saturday's came in the next at-bat following his own homer.
Brewers manager Ken Macha said he complained to MLB about his players getting hit too often. Brewers have been hit 47 times, the most in the majors.
Neither of the balls that hit Fielder looked as if they were being targeted anywhere near the plate. On Friday,
Tommy Hanson
's 92 mph fastball hit the Brewers' first baseman on the thigh. Saturday, Venters hit Fielder with a 94 mph fastball between the 2 and 8 on Fielder's back after Fielder was able to duck out of the way of the previous pitch. Macha certainly has a right to defend his players.
Rickie Weeks
has been hit 17 times, the tops in the majors, and Fielder is third with 14.
-- C. Trent Rosecrans
For more baseball news, rumors and analysis, follow @cbssportsmlb on Twitter.