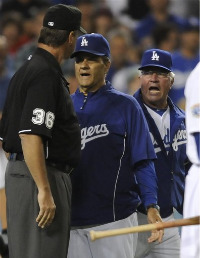 Dodgers
manager Joe Torre is making news in a couple of situations where he wasn't even present.
He wasn't present in the late stages of the Dodgers'
bizarre game
Tuesday night against the
Giants
, getting the thumb in the seventh inning when the rivals' beanball war escalated after both benches had been warned.
Bench coach Bob Schaefer had been ejected earlier, so after Torre's departure managing duties fell to hitting coach Don Mattingly, who screwed up royally. Mattingly went out to the mound to visit struggling closer
Jonathan Broxton
, and after taking a few steps toward the dugout, doubled back to say something else to Broxton.
As Giants manager Bruce Bochy helpfully pointed out to umpires, that constituted two mound visits, and once you visit a pitcher twice in one inning, you have to pull him from the game. Broxton was out,
George Sherrill
suddenly had to enter the game, and he and
Travis Schlichting
blew up as the Giants took a 7-5 comeback win.
Meanwhile, announcer Tim McCarver, who you might know is prone to a tiny bit of hyperbole, was apologizing for comments about Torre that
earned him a scolding
from the Anti-Defamation League.
What? All McCarver did was look at the
Yankees
' treatment of Torre, their former longtime manager, and compare the team to Nazis.
"You remember some of those despotic leaders in World War II, primarily in Russia and Germany, where they used to take those pictures that they had ... taken of former generals who were no longer alive, they had shot 'em," McCarver said during a Saturday broadcast. "They would airbrush the pictures, and airbrushed the generals out of the pictures. In a sense, that's what the Yankees have done with Joe Torre. They have airbrushed his legacy. I mean, there's no sign of Joe Torre at the [New Yankee] Stadium. And, that's ridiculous. I don't understand it."
McCarver, never the apologizing type, sort of apologized Monday: "Although my analogy was inappropriate, in my opinion the underlying point remains true," McCarver told the
New York Daily News.
-- David Andriesen
For more baseball news, rumors and analysis, follow @cbssportsmlb on Twitter.