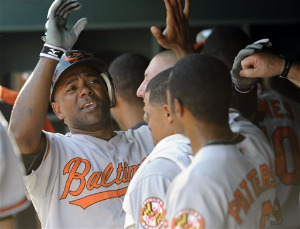 The
Padres
were already in need of offense, and now they have another hole to fill, at least for a few weeks, with
David Eckstein
on the disabled list.
The
San Diego Union-Tribune
reported
that Baltimore's
Miguel Tejada
could be the Padres' target. He could fill in for Eckstein (if not at second base, with a little moving around by the San Diego infielders), who is out with a calf strain, and then get time in the infield and outfield when Eckstein returns.
Tejada (.274/.314/.374) is having an off year offensively, and he doesn't do much for your defense. But the Padres, who despite being in first place are 14th in the National League in slugging, could use any pop he can provide. Tejada has seven homes and 16 doubles this season.
Jed Lowrie
could be another option for the Padres.
Last July, the
U-T
points out, the Padres went 4-16 with Eckstein on the DL for a hamstring strain, then 37-25 after he returned.
Most amazing fact you run across when analyzing this potential Tejada move: Tejada, who looks like he's 50, and Eckstein, who looks like he's 12, were born eight months apart.
-- David Andriesen

For more baseball news, rumors and analysis, follow @cbssportsmlb on Twitter.