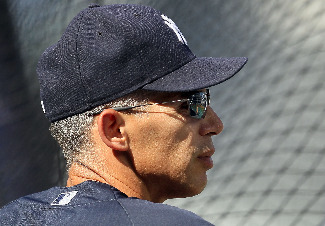 There will be a lot of people reading into what
Yankees
manager Joe Girardi had to say Thursday on the subject of the
Cubs
' upcoming managerial opening, but what's most important is what he did NOT say: "I'm not interested."
That's all Girardi would have had to say to at least minimize the distraction of the impending opening in Girardi's hometown. Instead he did some verbal bobbing and weaving that would make Sugar Ray Leonard proud.
"I figured this would come up once Lou [Piniella] announced his retirement," Girardi told the
New York Daily News.
"I have a responsibility to this club and the guys in that room, and that's my concern. People can speculate all they want, but that's my concern right now. I don't really think much about it."
The closest Girardi came to straight-up denying interest in the Cubs job was when he said "yeah" when asked whether his preference was to continue managing the Yankees.
But he also uttered the dreaded line: "I've loved my time here." That's the equivalent of a GM being asked about a manager's job security and replying that "[So-and-so] is our manager."
"I love it here; I've loved my time here," Girardi said. "I put my kids in school here and they're enrolled to go to school here next fall. There's going to be talk; I grew up there, I grew up a Cubs fan, I went to Northwestern, I lived in Chicago. But my concern is right now."
The Yankees visit Chicago (although on the South Side) August 27-29. There's a slight chance the subject might come up again then.
-- David Andriesen

For more baseball news, rumors and analysis, follow @cbssportsmlb on Twitter.