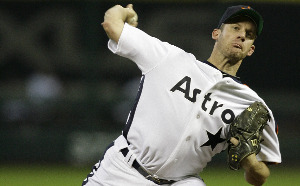 The
Boston Globe
's Nick Cafardo
spoke
to
Astros
president Tal Smith, who said that
Roy Oswalt
's market is with three-to-four teams, and talks should especially heat up Monday.
You can bet they will now that
Dan Haren
is officially
off the market
and an Angel.
Two teams that are in on Oswalt are clear: the
Cardinals
and
Phillies
.
St. Louis would certalnly love to add Oswalt to their already-dangerous rotation, as the backend has left much to be desired. That tends to happen when
Jeff Suppan
occupies a rotation spot. The Cards reportedly dangled shortstop
Brendan Ryan
among others to Houston who was not interested. That's fortunate, as it would make no sense for Houston to deal Oswalt for anything other than top young players. The team reportedly wants them major-league ready.
Oswalt would waive his 2012 club option of $16 million being picked up if he headed to St. Louis as he owns hunting property in Illinois. He reportedly won't do this for Philadelphia, as he agreed to make the 2012 year an option as long as he received a no-trade clause. Philadelphia desperately needs Oswalt and is dangling
Jayson Werth
in a companion trade to get additional prospects to try to facilitate a trade, but both trade fronts haven't borne the fruit desired.
Cafardo names Minnesota as needing "Oswalt probably more than any team."
Carl Pavano
and
Francisco Liriano
are very good while Scott Bakers is deceptively having a solid season, but still is not strong.
Nick Blackburn
was just bumped from the rotation by reliever
Brian Duensing
and
Kevin Slowey
has regressed as well. Oswalt would immediately shore up the rotation, but is Houston interested in Minnesota's major trade piece of Wilson Ramos? The 'Stros are high on internal catcher
Jason Castro
, so there may not be a fit there. Indeed, Ken Rosenthal of FOX Sports
chimes
in and says the
Twins
have not engaged Houston in talks yet.
The Astros have talked to the
Dodgers
who have plenty of money woes due to the pending divorce of its owners, but have just $61.4 million commited to its big-league roster,
according
to Cot's Contracts. If the Dodgers can find a way to fit Oswalt into the budget for 2010, they may not have difficulty incorporating him into 2011's payroll (and even 2012's). Rosenthal says the Astros would prefer either
Matt Kemp
or
James Loney
, which L.A. will not even consider.
Not considering the immensely talented Kemp is understandable, but not Loney? Loney is not a gifted fielder and while he can hit for contact, is not a thumper in the lineup. At a position such as first base, his production is easily replaced. The Dodgers definitely shouldn't let Loney stand in the way of a deal, even if they have to go with a cheap piece for the remainder of the year although potential fits could be players such as
Luke Scott
, who would not require an arm and a leg in a trade.
-- Evan Brunell
For more baseball news, rumors and analysis, follow @cbssportsmlb on Twitter.