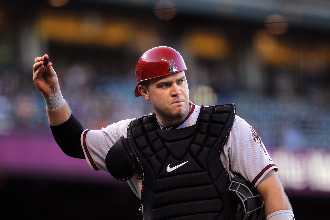 Dan Haren
has been dispatched to Anaheim, but that's not likely to be the last of the news coming out of the desert this week.
Steve Gilbert of MLB.com said Monday the
Diamondbacks
are open to offers for at least four more players: catcher
Chris Snyder
, right-hander
Edwin Jackson
, reliever
Chad Qualls
and first baseman
Adam LaRoche
.
A report earlier in the day by Ken Rosenthal of FOX Sports said the
Red Sox
had offered reliever
Ramon Ramirez
to the
Mets
for
Rod Barajas
before Barajas ended up hurt. That would indicate Boston is interested in shoring up at catcher (even with Monday's return of
Victor Martinez
), and obviously the Diamondbacks are desperate for anything resembling an even remotely competent reliever. Would the Sox make the same deal for Snyder that they were prepared to make for Barajas?
Jackson has
been connected
to the
Nationals
, though you wonder how interested the Diamondbacks are in parting with two-fifths of their starting rotation wihin a few days.
This week could be important to interim GM Jerry DiPoto, who is considered a longshot to keep the job. Some good trades might help -- and if he can get someone to take Chad Qualls (1-4, 8.49 ERA) off their hands, he might be the Diamondbacks' employee of the month..
-- David Andriesen

For more baseball news, rumors and analysis, follow @cbssportsmlb on Twitter.