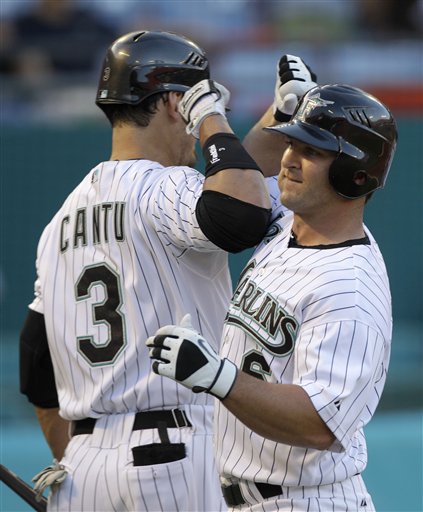 First jumping into home plate was baseball's greatest danger and now shaving cream pies will be decried as the scourge of the sport.
The
Marlins
'
Chris Coghlan
is the latest big leaguer to land on the disabled list with a celebration-related injury, a torn meniscus that could see him miss six to eight weeks. Coghlan suffered the injury trying to smash a shaving-cream pie in the face of
Wes Helms
, who had a walk-off single on Sunday.
"When Wes hit the walk-off, I went to pie him in the face," Coghlan told MLB.com's Joe Frisaro. "When I jumped, I landed wrong on my knee. That's how I got injured."
There had been speculation the Marlins would move
Jorge Cantu
before the trade deadline, move Coghlan from the outfield to third base and call up prospect Logan Morrison. Cantu may still go, but Morrison is coming up now to replace Coghlan on the roster.
After
Kendry Morales
hurt himself jumping into home plate, we heard scores of people saying they knew it was dangerous and was only a matter of time before someone got hurt celebrating a big homer. Someone, somewhere, will say the same about this, as ridiculous as it is.
Even Coghlan is perpetuating that silliness -- "As players we need to be a little more aware," Coghlan said. "It's a game of emotions, and emotions get the best of you."
We'll forgive him, because he's looking at possible surgery, but still it's pretty ridiculous to think delivering a shaving-cream pie is any more dangerous than standing in front of a projectile thrown at 100 mph or running as fast as possible and throwing yourself to the ground or running full-speed into a wall. And here I thought the shaving-cream pie's greatest danger was that it was cliche.
-- C. Trent Rosecrans

For more baseball news, rumors and analysis, follow @cbssportsmlb on Twitter.