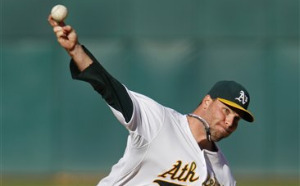 It was the worst-case scenario for Ben Sheets: a torn flexor tendon that will require surgery to fix, according to Susan Slusser of the San Francisco Chronicle .
Sheets missed all of 2009 with the exact same injury and surgery, so the road back will be rough. In 20 starts on the year, Sheets had a 4.53 ERA for the Athletics, making $10 million in his first season not with the Milwaukee Brewers.
The 31-year-old will likely not pitch until the end of the 2011 season, and even that is optimistic. It's possible the surgery could be a career-ender, although Jason Jennings had the surgery twice and is rehabbing with the Athletics. Jennings cobbled together several solid seasons for the Rockies before going under the knife for the first time in August 2007 after starting the season poorly with the Astros.
Jennings then joined the Rangers and underwent surgery again without throwing an official major-league pitch. He was able to return later in the season and make six (terrible) starts. In 2009, he was converted to relief and appeared out of the bullpen through August. He was so bad in August, however, that he was designated for assignment.
He signed a minor-league deal with the Athletics for 2010 and is currently on a throwing program -- he has not thrown an official professional pitch at all after imploding in spring training. Coming back from a second torn flexor tendon certainly requires quite a lot of work and time away from the game.
It's a tough blow for Sheets, and no one would blame him for walking away from the game. He's made millions, been considered one of the best pitchers in the game and has put his arm on the line twice now. He'll have a rough go of it in 2011, as he will be a free agent. It will be tough to find someone willing to ink him to a minor-league deal and pay a salary on top of all the rehabilitation work.
-- Evan Brunell
For more baseball news, rumors and analysis, follow @cbssportsmlb on Twitter.