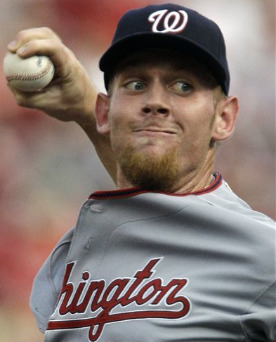 Stephen Strasburg
is being shut down for 10 days and has been placed on the 15-day disabled list.
This means the righty will miss his second start Sunday after having trouble getting loose in the bullpen in advance of Tuesday's start.
The injury was described as inflammation, and the
Nationals
took every precaution available to them by shutting Strasburg down. Strasburg chalked up the inflammation to "hitting the wall a little bit,"
according
to ESPN.
Manager Jim Riggleman appeared on MLB Network Radio on SIRIUS XM Thursday to say that the right-hander will be shut down for about 10 days.
"We will shut him down probably for ten days or so and get him ready for some more starts," Riggleman said.
Washington backdated Strasburg's DL assignment to July 22, the day after his last start, as expected. It gets Strasburg off the disabled list as early as August 6 -- nine days into the 10-day shut-down period. It's a smart move by Washington -- there's no reason why he shouldn't hit the disabled list if he's being shut down for 10 days.
In a corresponding move, lefty
Scott Olsen
was activated to start Thursday against the
Braves
.
Riggleman isn't concerned about a long-lasting injury, saying Strasburg will not be shut down for the rest of the season.
"All the reports are good, the MRI, the exams, everything came back negative in terms of injury," he noted. "So he's got some basic pitching stiffness but we're going to be very precautionary and very cautious and basically shut him down for a little while. Get him back throwing some sides and bullpens and maybe a simulated game and see how he feels and then get him back in the rotation."
According to
White Sox
pitching coach Don Cooper, however, he wouldn't be surprised if Strasburg has shoulder issues continue to plague him -- not just for the season, but for his career.
"The real concern is what I call an upside-down arm action," Cooper told MLB Network Radio.
"I am not wishing this guy bad, but for him to be having problems right now when they are really, really watching him what are they going to see when they are trying to get 220 innings from him? He does something with his arm action that is difficult, in my mind, to pitch a whole lot of innings on."
Cooper compared Strasburg to Mark Prior and
Kerry Wood
, two pitchers who have had their promising major-league careers derailed by arm woes. Unfortunately for Strasburg, Cooper doesn't think anything can be done to save him and adjust his arm action, which is too difficult to pull off.
Strasburg is entering, in his words, uncharted territory. In 2010, he has thrown 109 2/3 innings total -- 2/3 of an inning more than his total for San Diego State in his final college season. This means that every pitch from now on is adding extra stress on the arm, to say nothing of 109 professional innings being far more taxing than 109 college innings.
"You are talking about a guy coming out of college, probably pitching on Friday nights, and now he has a major-league workload," Cooper added. "I guarantee you throwing pitches in the major leagues is a whole lot different than throwing pitches in college. There's physical and mental stress that goes along with every major-league pitch."
Strasburg will not pitch more than 160 innings on the season. Given he has averaged six innings a start, that leaves roughly eight or nine starts to go. Even though Strasburg will not do so, if he takes the mound as soon as the 10 days are up, that would be August 8. Eight starts from then leaves him with a final start of September 12.
Riggleman, for one, can't wait to get him back on the mound.
"He's just been a tremendous challenge to hitters," Riggleman said. "With all the stats and everything that have come about one of the little subtle things that gets overlooked sometimes is just, does the other team hit your guy?
"And he's tough to hit."
-- Evan Brunell

For more baseball news, rumors and analysis, follow @cbssportsmlb on Twitter.