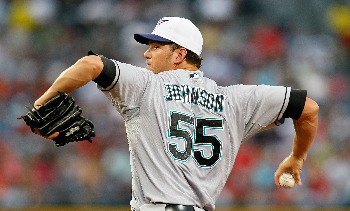 OK, now the
Rangers
are just being ridiculous.
As if getting the best pitcher in the American League*,
Cliff Lee
, weren't enough, the high-flying Rangers reportedly took a flyer on acquiring the best pitcher in the National League*, Florida's
Josh Johnson
.
Joe Frisaro of
MLB.com
reports that in negotiating with the
Marlins
about
Jorge Cantu
, whom they got in a trade Thursday, there apparently was a conversation that went something like this:
Jon Daniels:
"Say, Larry, did you get that bottle of tequila I sent over? Good. Did you have any yet? Oh. Well, uh, you should. It's really tasty, but you have to drink, like, a lot to really get the taste. Anyway, uh,
crazy
idea. What if we -- and this is just a thought -- were interested in taking one of your young pitchers off your hands?"
Larry Beinfest:
"I'm listening. Who did you have in mind?"
Daniels:
"Well, let's say, just for argument's sake ... (cough) Josh Johnson (cough)?"
Beinfest:
"Uh ... are you being serious? Josh Johnson, 26 years old, under contract for four years, 10-3 record, 1.72 ERA?
That
Josh Johnson?"
Daniels:
"Wait! Hear me out! For openers, you can have our three best prospects, and ..." (line goes dead)
Hey, you can't blame a guy for trying.
-- David Andriesen
*admittedly arguable, on both counts

For more baseball news, rumors and analysis, follow @cbssportsmlb on Twitter.