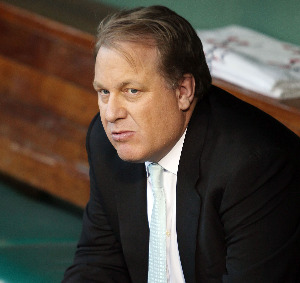 Try not to look so shocked, but Curt Schilling finds himself back in the news.
Since retiring after the 2008 season, Schilling has been hard at work at his latest project, a videogame company hard at work at entering the mass multiplayer online role-playing virtual world that boasts World of Warcraft as its most popular game. The studio's first game,
Kingdoms of Amalur: Reckoning
, is slated for a fall 2011 release. (While Schilling contributes to ESPN as well, his day job is spent at 38 Studios.)
The office is based out of Maynard, Mass. but may soon be relocating to Rhode Island after the Rhode Island Economic Development Corporation offered the Big Schill a $75 million loan to move to the state. The move would create 450 new jobs for the state with an average salary of $67,500,
reports
MassLive.com.
"I need you to know I've invested a significant amount of my life's earnings in 38 Studios," Schilling said at a news conference speaking about the deal. "I will protect the loan guarantee that's been given by the state with the same passion and interest that I'm protecting my own investment in this company. Our paths are very much aligned."
Rhode Island politicians are skeptical.
Moderate Party candidate Ken Block in Rhode Island didn't buy the deal either. He called it "a silver-bullet approach to economic development."
"We can't afford it," he added.
Timothy Cahill, currently running for governor of Massachusetts, says that Rhode Island made a "bad decision," and that his own state would not have extended the same deal.
In fact, not one of the current gubernatorial candidates in Rhode Island expressed support for the deal.
"I don't know if I trust Curt Schilling," was the decree of former senator Lincoln Chafee on Tuesday when appearing on WPRO-AM.
Chafee went way too far in his decrying of the deal, however, suggesting that Schilling's famed bloody sock was fake. There has never been one iota of evidence suggesting otherwise, and the continued "controversy" of whether it was real blood or not does an injustice to Schilling's incredible work in the 2004 postseason, which delivered Boston's first World Series since 1918.
"You're either stupid or bitter," Schilling once said in 2007 about the rumor that the blood seeping through his sock was not real.
-- Evan Brunell
For more baseball news, rumors and analysis, follow @cbssportsmlb on Twitter.