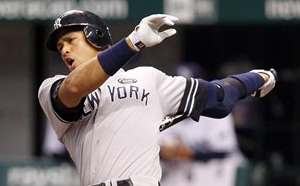 It's been 38 trips to the plate, and still no No. 600 from
Alex Rodriguez
.
If and when Rodriguez finally connects, the much-ballyhooed blast will place him in elite company along with Barry Bonds, Hank Aaron, Babe Ruth, Willie Mays, Ken Griffey, Jr. and Sammy Sosa.
And yet no one particularly minds that A-Rod is stuck at 599 home-runs.
More articles about why no one is excited for A-Rod's feat have been published than articles expressing excitement. In the baseball journalism world, writers have been actively hoping that No. 600 doesn't come on their watch so they don't have to write about it.
Simply put, no one really cares about A-Rod's advent into rarefied air, and it's perhaps the greatest indictment of the game to date.
As much as everyone wants to move on from the steroid era, its indelible fingerprints continue to be left all over the game, with A-Rod's eventual "historical" home run the latest evidence, having been swatted by an admitted steroids user.
Hank Aaron's 755 home runs are held to a far different standard because of how much more difficult it was to hit home runs in the yesteryears -- and not just because syringes weren't a staple of every locker in his day. Tony Massarotti of the
Boston Globe
crunched some numbers that are illuminating. From 1920 to 1994, home runs were hit once every 48.5 at-bats. Change 1920 to 1970 and the number dips slightly to 43. Since 1994, the number is at a staggering 1-in-32. Yes, the advent of small ballparks (thank you, Camden Yards) and other factors played a role in home runs. But not entirely, or even the majority.
Yes, the fact A-Rod juiced is a part of why there is general apathy toward the milestone. There was much more joy and attention given to Ken Griffey Jr.'s 600th home run back in June 2008.
The simple fact here is that any steroid user cannot be compared backwards in history to other eras or players. It's the biggest black mark against historical comparisons. It was OK to get past the mound being raised, the advent of small parks, expansion... all of these things impact eras and statistics, but there were still easy points of comparison. (Bob Gibson himself couldn't replicate his 1968's 1.12 ERA today even at the top of his game.)
Not so with steroids. Players in the steroid era can only be judged within that era, much like players prior to the modern era can only be judged within that era. As time goes on, the hurt of being misled by these players will fade, and the steroid era can become as objectively judged as the pre-Babe Ruth era. But it will still require its own set of requirements, with only those without any link to steroids gaining a true place in history (Griffey).
And that's what's so sad about this No. 600 home run by A-Rod. It will never have a true place in history -- and baseball is the one sport where the past is just as important as the present.
-- Evan Brunell

For more baseball news, rumors and analysis, follow @cbssportsmlb on Twitter.