A look at this week in promotional giveaways from around baseball:
Monday, Aug. 2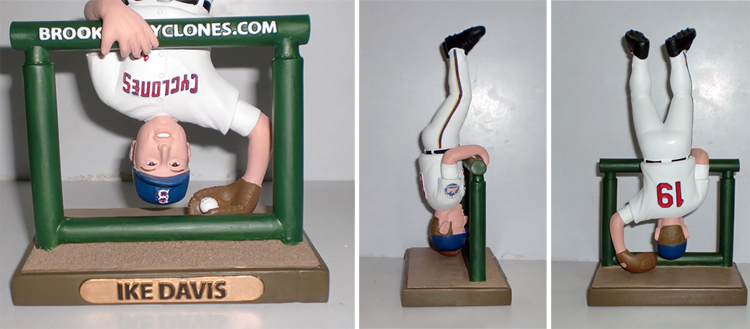 Brooklyn Cyclones (New York-Penn League) --
Ike Davis
bobblehead -- or bobblesomething. The Cyclones are celebrating Davis' three heads-over-heels caches over the dugout railing with an upside-down bobblehead, although I'm not sure what exactly bobbles.
Springfield
Cardinals
(Texas League) -- duffel bag. The practical giveaways are the best -- who can't use another duffel bag?
Tuesday, Aug. 3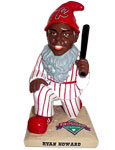 Springfield Cardinals (Texas League) Whitey Herzog bobblehead. If you missed the big league team giving away Whitey bobbleheads last week, here's another chance.
Reading
Phillies
(Eastern League) --
Ryan Howard
garden gnome. It kind of looks more like a wizard version of Ryan Howard, but, you know, either way my wife would love this, not because she likes Ryan Howard but because she has a really weird things with gnomes. When she saw our local nine had a gnome giveaway this year, she circled that date on the calendar.
Wednesday, Aug. 4
Chicago
Cubs
-- beer koozie. What else could you want or need at Wrigley Field?
Los Angeles
Dodgers
-- beach towel
Portland Sea Dogs (Eastern League) --
Hanley Ramirez
bobblehead. I always appreciate when minor league clubs honor players who played for them, even if they're no longer in the organization. Kudos Sea Dogs.
State College Spikes (New York-Penn League) -- Daniel Moskos & Tony Sanchez double bobblehead
Thursday, Aug. 5
Lehigh Valley IronPigs (International League) --
Brian Schneider
bobblehead
New Britain Rock Cats (Eastern League) -- beach towel
Brooklyn Cyclones (New York-Penn League) -- Irish Heritage Jersey
State College Spikes (New York-Penn league) -- kids Roberto Clemente Kids activity book. It's good to educate the kids.
Friday, Aug. 6
Baltimore
Orioles
--
Nick Markakis
mini bobblehead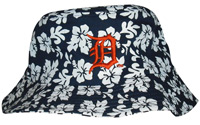 Detroit
Tigers
-- island-themed Tigers floppy hat. It's like a combo Magnum costume -- in floppy hat form. The pattern of a Hawaiian shirt and the Detroit Tigers' D
Pittsburgh
Pirates
--
Andrew McCutchen
bobblehead
Buffalo Bisons (International League) -- toothbrush. This may be one of the lamer giveaways, I've got to admit.
Trenton Thunder (Eastern League) --
David Robertson
bobblehead
Vermont Lake Monsters (New York-Penn League) Buster Olney bobblehead. When sportswriters get their own bobblehead, you may have run out of ideas. Olney grew up in the state.
Everett AquaSox (Northwest League) -- recycled tote bag
Saturday, Aug. 7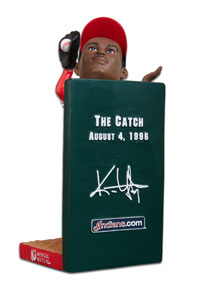 Cleveland
Indians
-- Kenny Lofton "The Catch" bobblehead. This one is great, I love bobbleheads from specific events, hence my Endy Chavez bobblehead. This one is from Lofton's catch over the wall of a sure homer by Baltimore's B.J. Surhoff on Aug. 4, 1996.
Florida
Marlins
-- samba whistle. Better than a vuvuzela.
Arizona
Diamondbacks
-- Luis Gonzalez bobblehead. In an added bonus, 50 fans will get an autographed, bronze version.
Colorado Springs Sky Sox (Pacific Coast League) -- Goose Gossage figurine.
Round Rock Express (Pacific Coast League) -- souvenir desk batting helmets
Northwest Arkansas Naturals (Texas League) -- lunchbox
Stockton Ports (California League) -- Grant Desme bobblehead
Kinston Indians (Carolina League) -- reusable grocery bag
South Bend Silver Hawks (Midwest League) -- reusable grocery bag
Princeton
Rays
(Appalachian League) --
Wade Davis
bobblehead
Billings Mustakens (Pioneer League) --
Jason LaRue
bobblehead. See what Jason LaRue looked like before his awesome mustache (hint: less awesome).
Sunday, August 8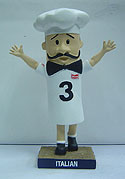 Milwaukee
Brewers
-- Italian sausage racing sausage bobblehead. I've gotten the bratwurst and a previous italian sausage bobblehead off of eBay, and I can tell you it's great. Although my wife said she didn't think it looked like a sausage.
Chicago Cubs -- light switch cover. Really, a nice, simple giveaway. It's got pinstripes and if you're a Cubs fan and have a man room or something, it's pretty cool.
Pittsburgh Pirates -- batting helmet. The classics never die.
Harrisburg Senators (Eastern League) --
Stephen Strasburg
bobblehead. How'd he get his own bobblehead? Oh yeah. He's good.
Brooklyn Cyclones (New York-Penn League) -- MCU Park model.
-- C. Trent Rosecrans
For more baseball news, rumors and analysis, follow @cbssportsmlb on Twitter.