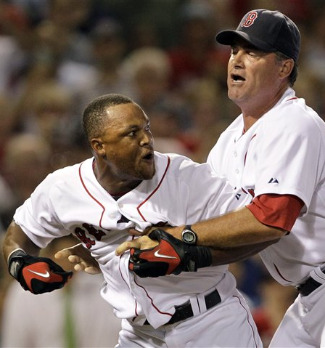 In a season devoid of major bench-clearing incidents, the
Red Sox
and
Indians
made things intriguing in the bottom of the eighth inning on Tuesday.
While no punches were exchanged, benches and bullpens cleared after Indians reliever
Jensen Lewis
popped
Adrian Beltre
in the back, much to the third baseman's chagrin. Beltre had words for Lewis while the catcher and umpire blocked Beltre's path to first base. As Beltre continued yapping, the benches cleared.
Tempers were hot because
Justin Germano
had thrown behind
David Ortiz
in the seventh inning, Ortiz avoiding the plunking by doing a two-step. The Indians were out for blood after Boston had hit two Indians earlier in the game.
In the first,
Josh Beckett
's inside fastball sailed a little too inside to
Shelley Duncan
, coming off a four-hit game the night prior. Duncan took first base without incident, but Beckett came back with a heater that drilled
Shin-Soo Choo
right in the knee in the third inning. Choo was down for a few minutes before taking first.
Things were then quiet until the attempt to bop Ortiz.
Once benches cleared, Beckett -- who was technically still in the game, after having pitched the eighth frame, but whose night was done -- clearly sparked the fire by yelling at various Indians. Duncan then decided to give Beckett some unkind words back, at which point the big
John Lackey
inserted himself in front of Beckett and Duncan, scowling and looking like an imposing bouncer at the bar.
Players were beginning to separate as umpires attempted to push Boston pitching coach John Farrell back to the dugout. Terry Francona was in the midst of exchanging words with third-base coach Steve Smith. Something really must have stoked Francona's fire, as he suddenly flipped the switch and became furious, causing the umpires to have to intervene and the players to come scurrying back to mill around some more. Francona rarely gets mad at a member of the opposition, and it was a startling sight to see him get so hot under the collar.
"I just got a little aggravated," Francona said after the game. "[I'll] cut back on the Red Bull tomorrow."
The umpires tossed Jensen Lewis from the game, who ended up throwing the single pitch for his night. Smith also joined Lewis in the clubhouse while Beckett was also tossed, which was unimportant as he was already leaving the game. Beckett tossed eight frames, allowing just three hits, zero walks and eight whiffs.
-- Evan Brunell


For more baseball news, rumors and analysis, follow @cbssportsmlb on Twitter.