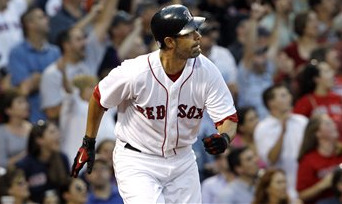 When you keep getting bad news, any good news is good news.
The
Red Sox
received two bits of good news on that front.
The first?
Mike Lowell
ain't a shabby player.
Stuck in purgatory the entire season, Lowell finally got his shot to be part of the starting nine for the Red Sox with
Kevin Youkilis
' injury. While he's not able to hold up full-time, he should receive plenty of playing time over the next two weeks and drew the start on Thursday.
On Lowell's first pitch, he blasted a two-run home run to provide all the margin Boston would need although
Bill Hall
later chipped in a solo shot for a 3-1 victory over the
Indians
. He also stole a hit away from
Trevor Crowe
with a nice diving play, although you could tell he has near-completely lost the mobility that he was once well-known for. He finished 1-for-4.
In other news,
Jacoby Ellsbury
will be joining the team for Wednesday's game, as Dan Roche of WBZ
reports
. Prior to Tuesday's game, GM Theo Epstein told the
Providence Journal
that Ellsbury was "days, not weeks" away.
Apparently it's just one day.
Ellsbury completed three rehab games for Triple-A, DHing in the final one. Ellsbury will continue to be hobbled by the rib fractures sustained way back in April all season, but thinks he can finally play through them and contribute to Boston.
The speedster has received flak from teammates -- notably Kevin Youkilis, who spoke out -- about not staying with the team and instead choosing to rehab in Arizona. The media and fans have also gotten on Ellsbury for not returning, expecting him to play through the pain. He has a lot of goodwill to make up for, and getting off to a good start will be crucial.
-- Evan Brunell


For more baseball news, rumors and analysis, follow @cbssportsmlb on Twitter.