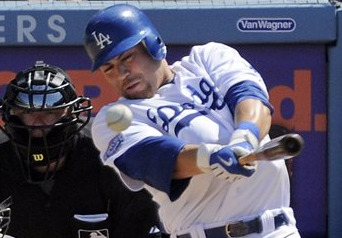 The Los Angeles
Dodgers
today got bad news when learning that
Russell Martin
tore the labrum in his left hip. The
injury plants him on the 15-day disabled list
and may wipe him out for the season.
This makes
Brad Ausmus
the de facto starter, even though the club also recalled A.J. Ellis. Ellis has a tremendous eye, but is also 29 and has yet to nail down even a backup job in the majors. If the Dodgers were more concerned with getting its internal, viable options playing time, Ellis might be able to step into the breach. Instead, he's working on a .204/.286/.224 line in 58 plate appearances during an earlier stint. That comprises 82 percent of Ellis' major-league experience.
Ellis also has minimal time at Triple-A this season in the amount of 10 games, so it will be difficult for the Dodgers to justify putting him in the starting lineup, even if he is their best option. (As good as Ausmus has been defensively over his career, he's made just four appearances on the year prior to Wednesday's game thanks to injury and hit .218/.303/.296 in his last extended time at the plate for the
Padres
in 2008.)
Due to the ill-advised trading of
Carlos Santana
for
Casey Blake
in the 2008 season, the Dodgers suddenly find themselves with minimal depth at the catching position. (One can't assume Santana would have been barrelled over by the NL version of
Ryan Kalish
and been placed on the disabled list as well.)
The Santana-Blake deal was derided from Day One even though Blake has been a solid contributor for the Dodgers as Santana has morphed into one of the best prospects in the game. Compounding things is a deal the Dodgers made with the
Royals
, shipping Lucas May and an additional prospect for
Scott Podsednik
. Good job, Ned Colletti!
The Dodgers could, of course, strike to deepen their catching through a waiver trade, although it's unclear who would be on the block. Even the rebuilding teams don't have much flexibility in this area, so Mr. Ned has his work cut out for him. Given his track record, don't bet on a smart solution.
-- Evan Brunell


For more baseball news, rumors and analysis, follow @cbssportsmlb on Twitter.