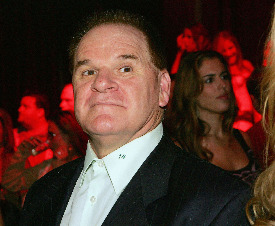 Filmmaker
Ken Burns,
creator of the landmark documentary project
Baseball
, told the Television Critics Association on Wednesday that Pete Rose should be in the Hall of Fame -- but not until after he dies.
"He deserves to be in the Hall of Fame. But he doesn't deserve to know he's in the Hall of Fame,"
Burns said.
"But that's just one person's opinion."
As morbid and flippant as that comment sounds, it really does encapsulate the crux of the Rose problem for a lot of people.
However you feel about what Rose did, the Hall of Fame is flawed without the all-time hits leader in it. From a logical perspective, the Hall is historically inaccurate.
But what many people who love baseball can't stand the thought of is Rose standing at that Cooperstown podium, wearing the smug, defiant grin that has infuriated so many. After all the denials and admissions and switchbacks and hucksterism, people don't want Rose to have the satisfaction of having won.
It seems inevitable that someday, some way, Rose will wind up with a plaque on that wall. But it seems impossible that it will happen while Rose is around to enjoy it.
-- David Andriesen

For more baseball news, rumors and analysis, follow @cbssportsmlb on Twitter.