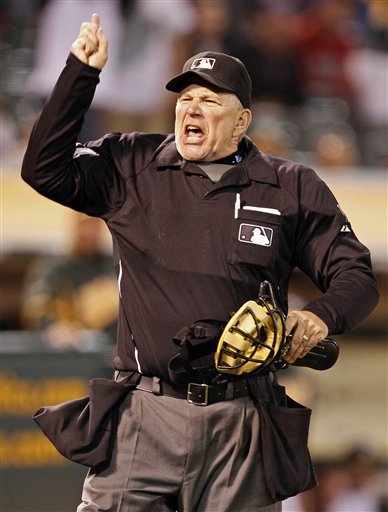 After the
Marlins
' bullpen blew a lead, third-base umpire Bob Davidson blew the game against the
Phillies
.
With a runner on second and one out, Sanchez hit a hard grounder down the third-base line. The ball bounced twice -- in fair territory -- before going over the bag and as it passed Davidson near the end of the infield dirt, Davidson threw his hands into the air and called a foul ball.
Just as he started to raise his hands, the ball bounced again -- six inches or so inside the line. Davidson was looking straight ahead and not at the ball as it bounced in fair territory. Rules state it doesn't matter where it lands, only where it crosses the bag, but it's kind of hard to believe the ball bounced twice in fair territory, went foul and curved back fair.
Marlins manager Edwin Rodriguez came out to argue the call, but didn't get tossed.
Ryan Madson
struck out Sanchez on the next pitch and after an intentional walk to
Dan Uggla
,
Cody Ross
struck out to send the game to extra innings.
Carlos Ruiz
homered in the top of the 10th to give the Phillies a lead.
UPDATE:
It's final, 5-4. The Phillies sweep the series, with a little help from Balking Bob.
UPDATE:
From
Joe Capozzi of the Palm Beach Post
: "
#Marlins owner Jeffrey Loria on the blown call -- The ball never landed in foul territory. Dreadful"

And if anyone knows "dreadful" it would be the most dreadful owner in MLB.

UPDATE: Remember how Jim Joyce turned his negative into a positive by accepting responsibility and reminding us umpires are human, too? Well, Bob Davidson has the exact opposite and reminds us of the arrogance of some umpires -- from Capooz via Twitter : "Umpire Bob Davidson -- Im very confident i got it right... i understand that's the winning run but in my opinion it was foul"

UPDATE: So, Davidson's arrogance knows no bounds. He watched the replay and is unrepentant. Here's the transcript of Davidson's meeting with a pool reporter, courtesy of Capozzi :
"I was right on top of it and it was wide of the bag, that's all. I had it foul."

He said he watched replays and stands by his call.

"In my opinion, where it goes over the bag, you can't tell," he said. "After a bounce, it came an inch or two on the fair side, but … it was very close. But I'm right there. i know what I saw.

"I'm very confident I got it right. What the ball did when it went past me is irrelevant."

"As I'm looking at the base, it was just to the right of it."

"I understand that's the winning run, but in my opinion it was foul and there's no replay that you can really see what the ball does over the bag — and that''s what's important. But I know what I saw."
Rodriguez brings up replay again, telling reporters: "I think that if a play is going to decide who wins or loses the game, i think they should check the play, any play."
The problem with that is who is to say what happens after the ball goes fair -- does the runner automatically get two bases? Is it treated like a ghost runner? Sure, in that situation, the runner would have scored easily, but what if the runner's on first? Does he score or just get rewarded two bases and put at third, as he would on a ground-rule double, even if he'd likely score on the play. There are so many what-ifs that brings in more judgement calls and chances for errors.
There's room for reasonable debate, but there's little room for debate that Davidson once again comes off as a pompous ass.
-- C. Trent Rosecrans

For more baseball news, rumors and analysis, follow @cbssportsmlb on Twitter.