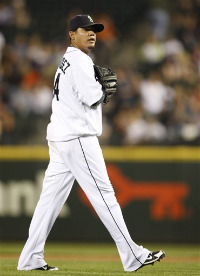 He's leading the American League in innings pitched. He has a sparkling 2.94 ERA. He's third in the league in strikeouts and sixth in WHIP among starters.
And he has seven stinking wins to show for it.
To say
Felix Hernandez
is lacking for run support is an understatement. He has nine losses, and in those nine losses the hapless
Mariners
have scored a
total
of seven runs while he was in the game.
He could be -- maybe even should be -- fuming. He has to be wondering what he was thinking in January when he lashed himself to this sinking ship with a five-year contract. The contract has a bonus for winning the Cy Young Award (he finished second last year, going 19-5), but he's not going to win a Cy Young if he can't get enough support to win more than seven games.
But outwardly, Hernandez has shown no anger, hasn't complained or lashed out at his teammates. It's impressive, especially for a player whose early years were marked by major concerns about his maturity and composure.
"He's not a guy who's ever going to complain, but it's got to wear on a young guy like him, especially pitching as well as he has,'' manager Don Wakamatsu told the
Seattle Times.
Hernandez seems focused on his individual performance, and doesn't let frustrating nights like Thursday (when he took the loss despite holding Texas scoreless into the seventh, and watched the Mariners go 0-for-12 with runners in scoring position) carry over.
"I just go home and play with my kids," he said. "It's not going to be hard.''
-- David Andriesen

For more baseball news, rumors and analysis, follow @cbssportsmlb on Twitter.