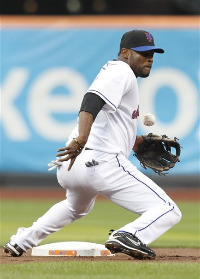 The
Mets
' bench got a lot more expensive Saturday, as they decided to let the kids take a shot where the veterans are falling short.
Manager Jerry Manuel said Ruben Tejada, called up Saturday along with Fernando Martinez, will be the everyday second baseman, supplanting
Luis Castillo
. Outfielder Martinez will be in a right-handed platoon with
Jeff Francoeur
, meaning he'll get most of the starts. Castillo (pictured) is making $6 million this season and batting .246/.341/.287; Francoeur is making $5 million and batting .241/.295/.378.
"When you lose the games that we've been losing, you just have to try to do something different," general manager Omar Minaya
told
ESPNNewYork.com. "There's nothing wrong trying something different with young players. ... This is about trying to find something different to get us to score some runs."
Tejada, 20, played 35 games with the Mets previously this season, batting .212. Martinez, 21, batted .176 in 29 games early in 2009.
Putting guys that young with no history of producing in the majors in starting positions looks an awful lot like running up the white flag on the season, but Minaya insists that's not the case.
"It's always developmental when you bring the young kids up," Minaya said. "But we feel we're still in a pennant race."
To make room on the roster for the new arrivals, the Mets sent down
Jesus Feliciano
and released
Alex Cora
. Cora, who was having a miserable season at the plate (.207/.265/.278), was 18 games from automatically vesting a $2 million option for 2011.
Francoeur has been a fourth wheel in the Mets outfield since
Carlos Beltran
's return, but had seen more playing time since
Jason Bay
went out with a concussion. Now he's back to the bench, and some expect him to ask for a trade.
-- David Andriesen

For more baseball news, rumors and analysis, follow @cbssportsmlb on Twitter.