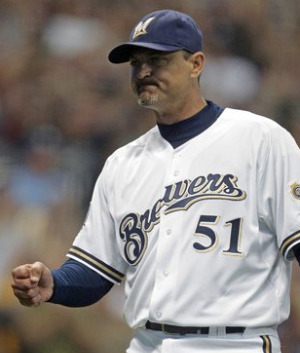 Trevor Hoffman
has scaled the mountain back to being a closer -- somewhat.
Brewers
manager Ken Macha announced Sunday that Hoffman would return to his long-familiar role in tandem with incumbent closer
John Axford
.
"The thing with Hoffman is he's earned his way back to saving games," Macha told MLB.com. "If you're going to stay with the premise that the players write the lineup and things like that, he's put his name back in there.
"That's not to eliminate Axford from doing things, too, because he's done nothing to write his name out."
Hoffman, 42, received
career save No. 597
Saturday night in lieu of rookie Axford who has 16 saves in 28 games comprising 35 1/3 innings pitched. The 27-year-old appears to be the closer of the future, while Hoffman is struggling to end 2010 on a good note -- both professionally and personally.
Hoffman struggled to get the year off to a good start, posting an obscene 11.65 ERA through his first 18 games, saving five and blowing the same amount. In his last 19 appearances, however, Hoffman has a 1.42 ERA in 19 innings, walking three and whiffing 14.
"It's about doing what's best for the team," Hoffman said. "Macha's biggest concern is how to get to the end of the ballgame with a win, and it's nice that a personal situation had a chance to take place. But his job as a manager is to win ballgames. In mid-May, he was looking for solutions. Pitching well helps, and I have to give him confidence to call my number out there and put me in the ballgame."
While speculation, Adam McCalvy of MLB.com believes he knows how Hoffman will be deployed. He writes:
The Brewers could use Axford for multiple-inning save opportunities and to protect one- or two-run leads. Hoffman could pitch when the Brewers have multiple-run leads -- with Axford available in relief if Hoffman falters -- or on days when Axford needs a break.
The Brewers aren't going anywhere with a 53-59 record, 11 games behind the
Reds
. While Axford is clearly the closer of the future, giving Hoffman a chance at 600 saves is simply the right move.
Not only has Hoffman proven his worth lately, but the team can only benefit from the public relations and goodwill that the run at 600 saves will engender -- both to its fans and players around the league. Hoffman is one of the best closers ever to put on a uniform, and players will notice that he is getting his fair shot at No. 600.
For Axford's part, he'll still grab the bulk of saves moving forward and pitch in high-leveraged situations regardless, so it shouldn't retard his development in the slightest.
-- Evan Brunell

For more baseball news, rumors and analysis, follow @cbssportsmlb on Twitter.