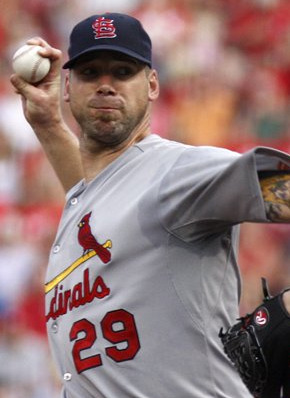 Chris Carpenter
is one of the most intense pitchers one will find on the mound, as a national audience found out Monday night.
In the opener of a crucial three-game set with the
Reds
that has first place in the NL Central hanging in the balance, Carpenter found himself at odds not with
Brandon Phillips
(
who called the
Cardinals
"little bitches") but with teammate
Brendan Ryan
.
Ryan was taking hacks in the dugout cage and was late getting out on the field for the bottom of the first, grabbing the wrong glove as he went. This caused Carpenter to fume as he was ready to pitch even prior to Ryan taking the field. Already jacked up, Carpenter wasn't in the mood to take an extra moment of preparation.
After giving up just a single and escaping the first inning unscathed, Carpenter asked Ryan to accompany him to the dugout tunnel, forcing Ryan to tag along like a lackey as they made their way down the dugout. Carpenter then had a few choice words for Ryan, who maintained a poker face and did not say anything in response.
That was bad enough, but if it had ended there the incident likely would have blown over. Carpenter was too rough on Ryan -- on showing him up in the field and the dugout discussion -- but Ryan also didn't show focus by ensuring he was ready to start the bottom of the first. Ryan already has trouble with a label of being flaky and zoning out, and these incidents were representative of that.
"It was just a little miscommunication on my part or misunderstanding on my part," Carpenter
told
MLB.com. What the misunderstanding is, no one knows.
That might have been the end of it, but in the bottom of the seventh, Ryan couldn't get to a
Juan Francisco
RBI single after already shading up the middle. Carpenter was furious and made it clear to everyone in attendance that he was not happy with the defensive wizard -- which is slightly odd, as Carpenter has requested Ryan patrol shortstop while he's pitching, given his superb defense. That was going too far. Ryan simply couldn't get to the ball because of his positioning, which was likely set by the coaches. In addition, it was a 7-1 game in favor of St. Louis. No, the game wasn't over, but it wasn't close either.
Carpenter did say that he wasn't mad at Ryan, simply upset with himself over the RBI single, although all evidence points to the contrary.
It's one thing to be highly competitive on the mound, which is an admirable trait. It is, however, another thing entirely to publicly show up Ryan not once, not twice, but three times in a nationally-televised game. Ryan, who is reportedly normally one of the most media-accessible Cardinals, left the locker room without speaking to reporters. That tells you all you need to know about how he's feeling.
Carpenter will have to do some apologizing for his actions to Ryan. Again, Carpenter was justified in being upset Ryan wasn't prepared to begin the game. But the public forum and the seventh-inning dressing down was not the proper avenue to display Carp's frustrations.
In the end, however, winning cures all -- and St. Louis won 7-3, pulling within one game of Cincy for first place.
-- Evan Brunell

For more baseball news, rumors and analysis, follow @cbssportsmlb on Twitter.