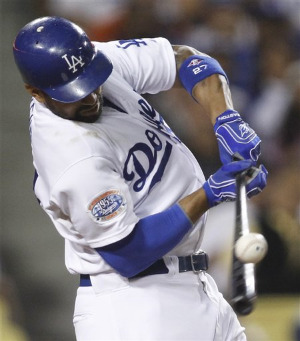 The controversy embroiling star youngster Matt Kemp took another step forward Thursday night, as the Los Angeles Times ' Bill Plaschke spoke to former Athletics pitching standout Dave Stewart, who is Kemp's agent.
At the end of June, Kemp was benched for three days amid controversy of Kemp blowing up at a coach after coaches kept trying to get him to maintain his focus on the field. Sounds like Kemp's in the wrong here, right?
Sure, except that third-base coach Larry Bowa and bench coach Bob Schaefer took to the public airwaves to voice dissatisfaction with Kemp -- which has put Kemp in an untenable situation. And it's to the point where Stewart thinks Kemp might be best served with a trade out of town.
"It's almost like it's open season on Matt, and it's not right," Stewart said. I'm almost to the point -- and maybe so are the Dodgers -- where I'm thinking that this just isn't going to work. The Dodgers have gaps on this team, and maybe they could fill them by trading Matt. It could be good for the team, and good for the player."
The latest controversy came after the 25-year-old star was benched for two games. In his return, he displayed what has become standard fare for Kemp: helping the team win, then making a boneheaded play. On Thursday, a two-run home run pushed the Dodgers' lead to seven in a game they would eventually blow . Kemp then stood at the plate in the eighth, not running out a blooper down the right-field line that he claims he did not see. The ball fell fair, and Kemp had to race to first base on what would have been a sure double.
"Everything was fine until suddenly Schaefer and Bowa start getting on him publicly," said Stewart, who broke in with the Dodgers as a player. "On those great Dodger teams of the past, you would never read about a player being trashed like Matt's been trashed."
Kemp certainly isn't a slouch, as his .263/.319/.458 line with 19 home runs put him among the top echelon of Dodgers offensive performers, even if it's a far cry from 2009's 26 homers and .297/.352/.490 line.
After 2009's breakthrough season, Kemp inked a two-year, $10.95 million deal that covers the first two years of arbitration. Dodgers GM Ned Colletti says he made Kemp promise not to lose his focus after signing the deal, but Kemp has regressed, lacking focus on the field. Why? As Plaschke says, "as the expectations have mounted, his joyful play has receded. He just doesn't seem mature enough to handle the burden."
So is Stewart right? Is a trade out of L.A., where Kemp's confidence in his superiors have diminished, the best thing?
"No, I have no plans to trade him," said Colletti, reaffirming previous opinions on the subject.. "He's got a chance to be one of the best players in the history of the franchise."
For Kemp to live up to that potential, though, both sides need to get on the same page. And fast.
-- Evan Brunell

For more baseball news, rumors and analysis, follow @cbssportsmlb on Twitter.