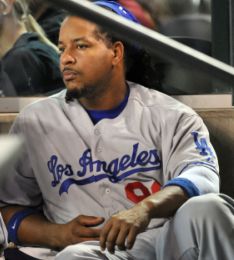 The most important thing the
Red Sox
can do to make the postseason is to win games. That much is obvious, but there are other aspects to getting Boston into the playoffs.
That includes preventing difference-makers from reaching Tampa Bay or New York.
But what is one to do when one of these difference-makers may be named
Manny Ramirez
?
Making $20 million on the year, Ramirez has been on the disabled list three times so far but still could make a major impact, especially as a member of the
Rays
, a team that needs another middle-of-the-order thumper.
"Theo [Epstein] and Ben [Cherington] would be down on the ground saying, 'Please, Kenny Williams. Put in a claim,'" Peter Gammons
says
on WEEI.
Williams is the GM of the
White Sox
, and he made a run at Ramirez at the trade deadline before being rebuffed by asking the
Dodgers
to pay most of Manny's remaining salary. Given the Dodgers are essentially dead in the race for the NL West Division, the Dodgers could just elect to let Ramirez go if claimed off trade waivers.
That's even if Ramirez decides to come off the DL.
"It's a tough question because it may be that Manny doesn't realize that he has to play and perform to get another contract. We have no indication that he's understood that after three trips to the disabled list this year," Gammons says.
"If he does figure that out and goes to Tampa and has a great month of September, he's exactly what Tampa needs. This is like the Red Sox' worst nightmare. Can you imagine Theo saying, 'Should I press the yes or no button on waiver claims on Manny Ramirez?'"
Can you imagine Theo deciding to put in a waiver claim just in case and then watching in horror as GM Ned Colletti of the Dodgers sends a text message saying "Enjoy!"?
-- Evan Brunell
For more baseball news, rumors and analysis, follow @cbssportsmlb on Twitter.