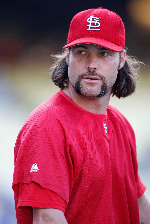 Cardinals
catcher
Jason LaRue
, who was kicked in the head by
Reds
pitcher
Johnny Cueto
during a fight between the teams on Tuesday night, is going on the disabled list as symptoms of a concussion linger. The Cardinals made the
announcement
during their game Friday night.
Outfielder Nick Stavinoha was called up from Triple-A Memphis. The Cardinals had already called up a third catcher,
Steven Hill
, on Wednesday.
Cueto is serving a seven-game suspension for kicking several people while pinned against the backstop during the scrum. LaRue had to have stitches in his lip and also suffered seriously bruised ribs, and pitcher
Chris Carpenter
was left with scratches on his back from Cueto's cleats.
Carpenter, who was fined in the incident, spoke out Friday about Cueto's actions.
"He came in there with intent to do something because he came in from the back side when you look at it," he said, according to
FoxSportsMidwest.com.
"I was in the same position. I was in a worse position. I had people grabbing on top of me and holding me and I didn't start kicking people and doing all that stuff.
"All this stuff that happened – the yelling, the pushing, the fighting and everything else – there was nobody throwing punches. There was nobody doing any of that. I don't care how scared you are, I don't care what the deal is. Whatever excuse you have, you don't start doing that. If you did that on the street, he would end up being…That's serious stuff."
It's been a bad year in baseball for concussions, an injury whose recovery is impossible to predict.
Mets
outfielder
Jason Bay
is out indefinitely with a concussion, as is
Twins
star first baseman
Justin Morneau
.
-- David Andriesen
For more baseball news, rumors and analysis, follow @cbssportsmlb on Twitter.